Happy New Year
(1973)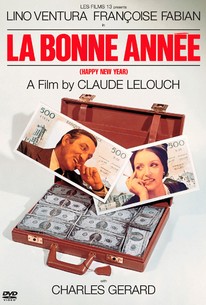 Movie Info
The ever-reliable Claude Lelouch serves up another romance-and-adventure combination plate with Happy New Year. Simon (Lino Ventura) is doing prison time, due to a jewel-theft caper. The police still have not recovered the loot, so Simon gets an early release so that they can track him to it. He is wise to their intentions, however, and loses his tail early on. Nonetheless, his search for his old partner Charlot (Charles Gerard) leads him to reminisce about the robbery itself, and the events that led up to it. With the encouragement of his partner in crime, who honorably gives him his share, he looks up his old flame (Françoise Fabian) even though he knows she is now seeing someone else. The story of their current love's rekindling coincides with a retelling of how they became lovers in the first place. Originally released in 1973 as La Bonne Année, Happy New Year was remade in America in 1987 with Peter Falk, Charles Durning and Wendy Hughes.
Critic Reviews for Happy New Year
Audience Reviews for Happy New Year
½
"La Bonne Annee" starts with Simon(Lino Ventura) getting a New Year's parole from jail which stops him from doing anything desperate like his fellow inmate who goes for the old fake gun trick. On the outside, the changes go beyond just his apartment as he finds that he can no longer tell the women from the men at his old favorite nightclub. Seven years previously, things were simpler when he was planning a jewelry heist with Charlot(Charles Gerard) in Cannes when a parallax occurs. The only question is whether it is a blonde or a brunette one. "La Bonne Annee" is a mediocre combined heist movie/romantic comedy. The problems with the movie run deeper than just a leaden pace and a miscast Lino Ventura. Usually he is fine when playing a tough guy but not so much here trying to play a more cerebral type of criminal. Director Claude Lelouch also is guilty of being too academic here with his thoughts on reality versus fantasy that start with the movie within a movie that begins this movie. Then, you have Simon and Charlot also playing other roles in going undercover for the heist. I did like it during a conversation about movies when Simon says he takes risks in deciding which movies to watch. But sometimes like this one, the risk does not pay off.
Happy New Year Quotes
There are no approved quotes yet for this movie.