Happy People: A Year in the Taiga
(2013)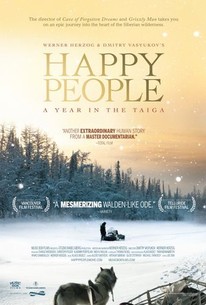 TOMATOMETER
AUDIENCE SCORE
Critic Consensus: Filled with breathtaking images of the foreboding Siberian countryside, Happy People: A Year in the Taiga is a fascinating look at an isolated society.
Happy People: A Year in the Taiga Photos
Movie Info
With HAPPY PEOPLE: A YEAR IN THE TAIGA, Werner Herzog and Russian co-director Dmitry Vasyukov takes viewers on yet another unforgettable journey into remote and extreme natural landscapes. The acclaimed filmmaker presents this visually stunning documentary about indigenous people living in the heart of the Siberian Taiga. Deep in the wilderness, far away from civilization, 300 people inhabit the small village of Bakhtia at the river Yenisei. There are only two ways to reach this outpost: by helicopter or boat. There's no telephone, running water or medical aid, The locals, whose daily routines have barely changed over the last centuries, live according to their own values and cultural traditions. With insightful commentary written and narrated by Herzog, HAPPY PEOPLE: A YEAR IN THE TAIGA follows one of the Siberian trappers through all four seasons of the year to tell the story of a culture virtually untouched by modernity. Werner Herzog's distinguished filmography includes documentaries (Grizzly Man, Encounters at the End of the World, Cave of Forgotten Dreams), narratives (Fitzcarraldo, Rescue Dawn), and many shorts. (C) Music Box
News & Interviews for Happy People: A Year in the Taiga
Critic Reviews for Happy People: A Year in the Taiga
Audience Reviews for Happy People: A Year in the Taiga
Werner Herzog's, Happy People is yet another example of what makes him a good filmmaker. It's observant, beautifully shot, and restrained in its narration, letting the images and people speak for themselves. The film follows a group of trappers in the incredibly brutal and remote Siberian Taiga. So isolated, this area can only be reached by boat or helicopter, and only during certain times. Herzog captures this vastness beautifully, giving us expansive shots of the barren landscape, in its boldness and its breathtaking nature. Here we get intimate insights in to the men and women who brave this land, who, in their simplicity and assuredness, offer a lot of profound insight. Visually, the film is stunning, as Herzog's work tends to be. Here Herzog is able to put to film something that seems surreal, it is so foreign to us. It is always engaging, and features just the right mix of narration, images, and dialoged from the trappers. Herzog lets what they say unfold organically, and the shots he is able to captures are nothing short of astonishing. An excellent documentary. 4/5 Stars
Jeffrey Meyers
Super Reviewer
½
Happy People: A Year in the Taiga is another amazing documentary from Werner Herzog. He always chooses very human stories and Happy People is no different. This is about as pure human as you can get anymore. We see people living in the Siberian Taiga, who have no running water, no electricity, no stores, no cars, nothing, but what they make and what they kill. They live off the land. Along the way we meet trappers, boat makers, fishermen, hunters, and a WWII hero. Most aren't given a lot of screen time, as we mostly follow one trapper. I like that we're given a lot of time with one person because it allows us to see someone in every aspect of their life in the Taiga, but also because the trapper who has all the screen time is extremely interesting. Happy People is a film that everyone should watch. It's about people who are truly free, which is a theme nailed home by Herzog's narration many times. The people of the Taiga aren't confined to the types of lives we lead. There's no law, there's no telephones, no computers; nothing but the people themselves and what they create. This is one of those movies that just makes you want to get out of the consumerist, wasteful society we live in. 
Melvin White
Super Reviewer
I never thought I'd say this, but while watching this film I actually missed Werner Herzog's usual grand pretentiousness. "Happy People" is a very interesting look at a culture so distant from (but in some ways shockingly similar to) our own, but a lot of life in the Taiga is slow, uneventful business, and that is definitely reflected in the film. It may be worth seeing if you want a peek into a different way of life, but unlike Herzog's previous films, it doesn't explore the underlying human themes nearly as much as it could have(or in my opinion should have).
Sam Barnett
Super Reviewer
Happy People: A Year in the Taiga Quotes