Hard Boiled Sweets
(2012)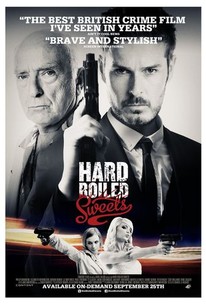 Hard Boiled Sweets Photos
Movie Info
Ex-con Johnny is forced into pulling a heist he wants nothing to do with. Mob boss 'Shrewd' Eddie has one million in dirty cash stashed at his home, just waiting to be stolen. But what Johnny doesn't know is that seven other very dangerous criminals also have plans to steal the money... -- (C) Official Site
Critic Reviews for Hard Boiled Sweets
Audience Reviews for Hard Boiled Sweets
½
[img]http://www.pyromag.com/wp-content/uploads/2012/02/HARD-BOILED-SWEETS-.jpg[/img] Guy Ritchie spoiled us with his movies! This crime thriller tried to do something similar but the black and white shallow characters didn't taste good as sweets! You could witness the crooks galore in this movie - three, possibly four, teams of crooks are out to seize a million quid when London bagman Jimmy the Gent (Peter Wight) comes to a lurid Southend to collect protection money from Shrewd Eddie, the local Mr Big (Paul Freeman). Movie is trying to be smart introducing each character on first appearance with a confectionery that they jokily resemble (eg Shrewd Eddie is the Gob Stopper, gangster moll Porsche played by Ty Glaser is the Sherbet Lemon -- "the sweet that's really tasty and tart" -- and things get sillier from there..., but I don't think that anyone left the cinema with a thought that the director David L.G. Hughes did a smart job! There are eight brutal murders, but the most interesting part in the movie was definitely the part when the gangster's moll likes to have sex with two men on the same day because "she likes to feel the different sperms doing battle inside her"- as Philip French from "The Observer" put it nicely! The script was actually expanded from Hughes' 2007 short "A Girl and a Gun," and seemed rushed to me, especially with the over-mannered dialogue and lines like "He just came by a stinky-winky funk"? ... of course, some critics suggested that this could be just a way of poking fun at this particular subgenre's much-imitated Ritchie-speak but I wish they did it better if that was their intention, because this way instead of taste of the sweet center the viewer got only the wrapper!
Hard Boiled Sweets Quotes
There are no approved quotes yet for this movie.