Hard Candy
(2006)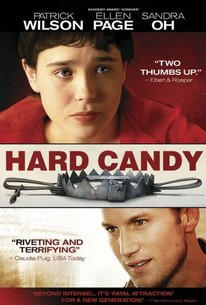 TOMATOMETER
AUDIENCE SCORE
Critic Consensus: Disturbing, controversial, but entirely engrossing, Hard Candy is well written with strong lead performances, especially that of newcomer Elliot Page. A movie that stays with the viewer long after leaving the theater.
Movie Info
A teenage girl agrees to meet a thirtysomething fashion photographer in person after becoming acquainted with him in an online chat room, and the resulting encounter finds the line between predator and prey slipping slowly out of focus in director David Slade's provocative and topical thriller. Hayley (Ellen Page) is a 14-year-old teen whose emotional maturity seems to betray her tender age. Jeff (Patrick Wilson) is a potential child predator whose intentions toward his young chat buddy seem less than honorable. After meeting in a coffeehouse and getting to know each other briefly in person, Jeff invites Haley back to his place, and it's not long before Jeff's underage guest is pouring drinks and posing provocatively for an impromptu photo shoot. As the evening's questionable activities take a decidedly sordid slant and the raptorial Jeff appears poised to strike, a sudden turn of events finds that his apparent victim has had a plan of her own from the very beginning. ~ Jason Buchanan, Rovi
News & Interviews for Hard Candy
Critic Reviews for Hard Candy
Audience Reviews for Hard Candy
Riveting mix of a thriller, revenge film and psychologically horror film, Hard Candy features a brilliant tour de force performance by Ellen Paige who tries to uncover a guy's dirty secret that he is in fact a pedophile. The film steadily builds up the tension, and in turn you cannot simply look away, and it dares you not to. Brilliant in its performances, Ellen Paige and actor Patrick Wilson have great chemistry on-screen, and it makes for a truly unique and ultimately terrifying ride. Hard Candy mixes different genres into film, and it succeeds at delivering a top notch thriller that combines plenty of other elements to really add depth to the story. Viewers looking for a well acted and directed thriller will surely want to see this, and with some strong performances here, it elevates the simple story even further and makes for a truly riveting, edge of your seat cat and mouse game. This was director David Slade's directorial debut, and with that being said, it's a well crafted picture that uses a simple story and proves that you can accomplish so much while using so little. Hard Candy is a riveting, disturbing film that like I said mixes other genres into film and it successfully does while not overdoing anything in the process. Ellen Paige has made some great films over the course of her career, but I would rank this as one of her best, and she just commands the screen with her presence and she makes this film a compelling, intense and unforgettable viewing experience. I really liked the film, and thought it was a smartly crafted film that will make you uncomfortable from the first frame onwards. Truly a one of a kind thriller that is nail biting solidly paced entertainment.
In every Ellen Page film I have seen, her character is an infuriatingly smug, precocious, androgynous pain in the arse, and 'Hard Candy' is no different. In fact, it's worse, her painfully irritating screen presence is accentuated by her total dominance in the film, she's even more unbearable than she was in the ironically titled 'Super'. When I realised her performance was going in this familiar loathsome direction, I almost stopped watching it, but I found the strength to continue. It started strongly, the first 20 minutes of 'Hard Candy' are genuinely creepy and unsettling, mostly because of the ambiguity of the situation. It's also here that Ellen Page is actually very good, she's natural and only adds to the tension, she can give likeable performances after all. However, it swiftly descends into a stressful, frustrating ordeal of a film. My main problem with it was that throughout Hayley's antagonisation of Jeff, he isn't a confirmed paedophile or threat. Jeff is actually a character one can empathise with. He's clearly morally dubious, he has crossed the line in his contact with Hayley, but he seems to realise this - 'Look. I've been lonely, okay? And that makes me stupid, but I am not a paedophile.' Is Jeff saying that as a way out? What were his intentions before things turned against him? I didn't know, but his innocence seemed credible, which made the majority of the film seem to be unjustified, sadistic torture committed by an irrational, evil and maddeningly arrogant psychopath. Another of the film's problems is straightforward implausibility. 5ft 1 Ellen Page, who looks like she must weigh under 100lbs, somehow gets Patrick Wilson in all sorts of predicaments which are simply impossible. They can just about convince us of her dexterity with rope, but not that she can support Wilson's bodyweight to such a laughable extent. 'Hard Candy' is another film spoilt by how irritating Ellen Page is, but it also has several narrative issues which bang the final nail in the coffin.
Jack Hawkins
Super Reviewer
For a debut film, its one of best I've seen. Director David Slade shows off his skills with one of the most unusual films of 2005. There are challenging scenes and begs the audience to question whether Ellen Page's actions are justified. A great film that pits two great actors against each other in an odd story of Cat versus Mouse.
Hard Candy Quotes
| | |
| --- | --- |
| Hayley Stark: | Playtime's over. Now, it's time to wake up. |
| | |
| --- | --- |
| Hayley Stark: | Sorry, I couldn't hear you. Maybe it was the music, or I dunno, maybe it was the bullshit. |
| | |
| --- | --- |
| Hayley Stark: | There's that whole nature versus nurture question, isn't it? Was I born a cute, vindictive, little bitch or... did society make me that way? |
| | |
| --- | --- |
| Hayley Stark: | I'll take care of everything...or not. |