Hard Pill
(2005)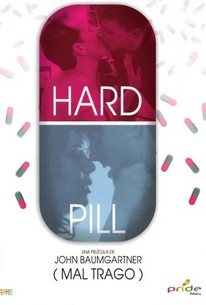 AUDIENCE SCORE
Critic Consensus: No consensus yet.
Movie Info
A gay man takes an experimental medication designed to make him heterosexual in this provocative independent drama. Plain-looking, unlucky in love, and approaching middle age, Tim (Jonathan Slavin) isn't very happy with the shallow hedonism of the gay world. He pines for his straight best friend Don (Mike Begovich), whose occasional willingness to accept drunken oral sex marks the closest thing to a date Tim's enjoyed in years. When news breaks of a drug trial for a miracle pill that will turn homosexual men straight, Tim jumps at the chance to enroll. His decision alienates him from Joey (Scotch Ellis Loring), his good-time-guy pal, and from Don, whose company he must shun in order to bolster the drug's effectiveness. As the treatment progresses, Tim tries out hetero sex with Sally (Susan Slome), a co-worker who's been in love with him for years. But when he spurns Sally for a better-looking new girlfriend who knows nothing of his gay past, Tim's final link to his previous life is severed. Ultimately, though, a crisis among his old friends drags Tim back into their orbit, putting his entire course of treatment in jeopardy. The debut feature from writer/director John Baumgartner, Hard Pill played the festival circuit before airing on Logo, the nascent, Viacom-owned gay cable network.
Critic Reviews for Hard Pill
All Critics (2) | Fresh (2) | Rotten (0) | DVD (1)
There's a lot to discuss here, and the script makes many great points but always within the context of the story.
Hard Pill supplies the kind of intelligent, thoughtful, personal, effective speculative fiction that doesn't come around nearly enough these days.
Audience Reviews for Hard Pill
A very interesting concept, hampered slightly by (mostly) mediocre writing. It would be easy to write this off as simply a "gay film", which is what it is on the surface. But for those who care to do a little thinking...It poses some really deep and thought provoking questions that are applicable to all people regardless of sexual orientation. It does a great job of making you think about relationships (not just sexual ones) in general and how easy it is to allow feelings of comfort and familiarity to overshadow what we actually want , need and deserve... healthy, happy and productive relationships with the people in our lives.
Hard Pill Quotes
There are no approved quotes yet for this movie.