The Hard Way
(1991)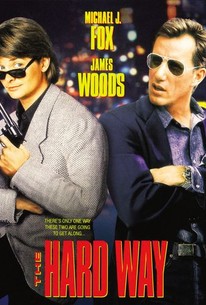 Movie Info
Action film director John Badham bites the hand that feeds him in this action movie spoof that features ribbing of pretty-boy Hollywood action stars by Michael J. Fox and a parody of colorful, hair-trigger James Woods types by the man himself. Woods plays New York homicide detective John Moss, who is within an inch of closing in on a serial killer who calls himself The Party Crasher (Stephen Lang) because his specialty is shooting his victims in the middle of discos. Chasing The Party Crasher after his latest victim has been dispatched, Moss finds himself hanging onto the door of a speeding truck with The Party Crasher at the wheel. When Moss is thrown off the truck and nearly killed, The Party Crasher escapes, and Moss is taken off the case. Moss is given a new assignment --to tag around with Hollywood action film star Nick Lang (Michael J. Fox), the popular hero of the "Smoking Gun" movies. Lang spotted Moss on a television news show and thinks he would be the ideal cop to study for adding authenticity to an up-coming police action picture. Posing as Moss's rookie partner, Lang follows Moss everywhere, proceeding to spoil his pursuit of The Party Crasher and interfering with Moss's burgeoning affair with his girlfriend Susan (Anabella Sciorra).
Critic Reviews for The Hard Way
Audience Reviews for The Hard Way
½
While it's nothing revolutionary, The Hard Way does what it does well. It's your fairly typical buddy cop film but with some nice moments and surprises in the first hour and change. The climax is a little cliche-tastic, but delivers some fun action.
Ken Stachnik
Super Reviewer
Funny action flivk. James Woods is great in this one.
Jason Spencer
Super Reviewer
One of my favorite buddy/comedies ever made.
The Hard Way Quotes
There are no approved quotes yet for this movie.