Hardcore Henry
(2016)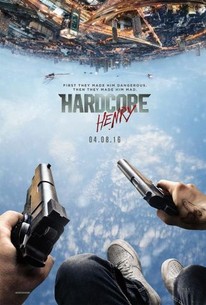 TOMATOMETER
AUDIENCE SCORE
Critic Consensus: Hardcore Henry seems poised to reinvent the action flick, but without a story or characters worth caring about, its first-person gimmick quickly loses its thrill.
Movie Info
Strap in. Hardcore Henry is one of the most unflinchingly original wild-rides to hit the big screen in a long time: You remember nothing. Mainly because you've just been brought back from the dead by your wife (Haley Bennett). She tells you that your name is Henry. Five minutes later, you are being shot at, your wife has been kidnapped, and you should probably go get her back. Who's got her? His name's Akan (Danila Kozlovsky); he's a powerful warlord with an army of mercenaries, and a plan for world domination. You're also in an unfamiliar city of Moscow, and everyone wants you dead. Everyone except for a mysterious British fellow called Jimmy (Sharlto Copley.) He may be on your side, but you aren't sure. If you can survive the insanity, and solve the mystery, you might just discover your purpose and the truth behind your identity. Good luck, Henry. You're likely going to need it...
News & Interviews for Hardcore Henry
Critic Reviews for Hardcore Henry
Audience Reviews for Hardcore Henry
Here it finally is: First person shooter - the movie. That's infuriatingly shaky to the degree of making you sick, lacking any kind of coherent story or respect for human life (what a surprise). No charm, no (functioning) humor, just some pretty decent stunt work. That is not enough to make me sit through this. I quit halfway through.
The found footage genre has become a gimmick and certain moviegoers are always looking for a new and inventive way to tell stories. Hardcore Henry explores a first person-style action flick, which has never been done on the big screen until now. I was very hesitant on watching this film, because I was afraid it was just going to come off as a cool concept and eventually taper off by the end of the film. After watching Hardcore Henry, I can confidently say that it did not have me surprised in any way. It really is just a neat concept that is executed with precision, but little to no story to truly care about. Here is why I believe Hardcore Henry is extremely cool, but only for about 20 minutes. From the opening shot, you know what the style of this film is going to be like. Having said that, it never really prepares you for all of the realistic violence throughout the film. The film chooses to slowly escalate and never really intends on stopping that escalation. This is both entertaining and jarring at the same time, but also ends up being the biggest flaw with the film. Although it is trying to go for the coolest sequences possible, it focusses more on topping the previous action scenes, rather than focussing on its story. For the first act of the film, I found myself entertained by the spectacle, but that wore off pretty fast, making this a very weak film in my opinion. Essentially, Hardcore Henry is about a man (Henry) who is resurrected from the dead as a robotic figure, told he has a past life and a wife, comes into contact with a man who is bio-engineering humans for combat and we pretty much are the embodiment of Henry as he travels from set piece to set piece. The story seems somewhat original, but you can't help but draw comparisons to better films that it seems to be borrowing from throughout its duration. Personally, I found myself comparing it to the film Crank. I became too distracted by how unoriginal the plot felt, that my mind eventually became numb to the action. As a whole, I would be lying if I said I enjoyed watching this film, but I would also be lying if I said I wasn't blown away by the filmmaking aspects. This is easily what makes this film watchable. It truly does feel like you are playing a realistic video game and the visuals are impeccably done, as far as the violence and action set pieces are played out. Also, I need to commend Sharlto Copley for delivering a very enjoyable performance in having to deliver multiple versions of himself. To me, that was the most enjoyable aspect about this film. Written and directed by Ilya Naishuller, Hardcore Henry definitely makes me want to see more from what this guy can do, but maybe just as a director. The story here is what bothered me, in that I truly didn't care about who lived or died, especially in the final act. The end of the film is far too abrupt, making it truly seem like it was just made for the camerawork. In the end, Hardcore Henry is incredible to look at for about 20 minutes, until you really see what the story is and that each scene is going to try and top the last, as far as entertainment levels go. This film wore me down pretty fast and I can't quite recommend this film, even though it is worth seeing for the visual style alone. Aside from that, it is a hollow film and the little substance that it does have, is left on the table when the film ends too abruptly. For video game fans or hopeful future filmmakers that want to see something intuitive, that is about the only demographic I can recommend this to. I can't see anyone loving this, but it will definitely earn some fans from those categories. Overall, Hardcore Henry is cool to experience for a while, but it just needed a much better premise.
See the wonders that can be made with GoPro, like this fast-paced, heart-pounding and even hilarious "video game movie" that puts us in the shoes of its protagonist in the middle of a cat-and-mouse hunt and never ceases to surprise us with spectacular stunts that are worthy of every award imaginable.
Carlos Magalhães
Super Reviewer
Hardcore Henry Quotes
| | |
| --- | --- |
| Akan: | That's so sweet that if I had a cup of tea, I wouldn't need any sugar. |
| | |
| --- | --- |
| Estelle: | Henry, fight back! You are capable of more than you think. |
| | |
| --- | --- |
| Estelle: | You and I were husband and wife. I love you Henry. |