The Harder They Come
(1973)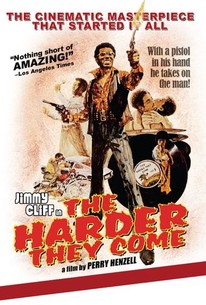 The Harder They Come Photos
Movie Info
Reggae legend Jimmy Cliff stars as Ivan Martin, an aspiring young singer who leaves his rural village for the capital city of Kingston, Jamaica hoping to make a name for himself. Robbed of his money and possessions his first day in town, he finds work with a self-righteous, bullying preacher and an unscrupulous music mogul who exploits naïve hopefuls. In desperation the simple country boy turns outlaw, at war with both the police and his rivals in the ganja trade. Ivan's dream of stardom soon becomes a reality as he rises to the top of the pop charts and the most-wanted lists. This gritty, groundbreaking film brought reggae music to the international stage, made Jimmy Cliff a star worldwide.
News & Interviews for The Harder They Come
Critic Reviews for The Harder They Come
Audience Reviews for The Harder They Come
This is probably the most well-known and important film to come from Jamaica. And, while it might not have been intentional, you could also lump this in as a blaxploitation film if you so desired. In his acting debut, we get musician Jimmy Cliff as Ivan, a young man from the country who comes to Kingston to try to make a better life for himself. He dreams of hitting it big as a music star, and, while that does happen, he gets caught up in the world of being an outlaw as well. The story has the familiar ring of rags to riches, dealing with fame and success, but ultimately gets saved by a solid lead performance, and a superb reggae soundtrack provided by Cliff, The Maytals, and a few others. Also, it is my understanding that this film was also the first time where wide audiences were shown a clear divide between the Jamaica of the tourism industry, and how it really is. It's not so revelatory now, but I'm sure this was quite something back in the early 70s. Thankfully the film is merely showing and telling it like it is, as opposed to being an exploitative venture into the dark underbelly of a supposed paradise. This revealing of how it is also includes jabs as the country's music scene, and the inherent corruption involved with it. I dug this film a lot, but I don't think it's quite the landmark as its often labeled. Don't get me wrong, it's is quite good, but it didn't grab me like it has a lot of others. It's worth seeing though, especially if you dig reggae, and, if you're not familiar with Jamaica, the film does have occasional subtitles, which are nice since sometimes the accents are so thick, and the manner of speaking is so strong that the film would be all but incomprehensible otherwise for non-natives. All in all, this is a pretty good time. It's a tad overrated, but enjoyable nonetheless.
Chris Weber
Super Reviewer
½
A must see for anyone interested in Reggae music. A totally authentic look at Kingston in the early 1970's.
Graham Jones
Super Reviewer
½
It makes up in talent what it lacks in budget. Amazing songs, feeling of sheer authenticity, social commentary and gripping guerrilla filmmaking
Pierluigi Puccini
Super Reviewer
The Harder They Come Quotes
There are no approved quotes yet for this movie.