Hardwired
(2009)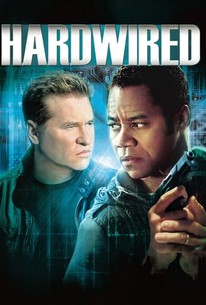 AUDIENCE SCORE
Critic Consensus: No consensus yet.
Movie Info
Academy Award-winner Cuba Gooding, Jr., Val Kilmer, and Michael Ironside headline this sci-fi action flick about a man who must fight for his life after receiving a lethal brain implant. Luke Gibson (Gooding, Jr.) nearly died in the car accident that killed his wife and unborn child, but upon awakening in the hospital it quickly becomes clear that his life is still in danger. A microchip has been implanted in Luke's brain, and now his every move is being monitored by Hope Industries, a powerful corporation headed by a ruthless executive (Kilmer). If Luke doesn't get it out of his head soon, he'll become another brain-dead casualty of our corporate overlords. In order to regain of his own mind and prevent Hope Industries from achieving global domination, Luke seeks help from a team of highly intelligent computer hackers.
Critic Reviews for Hardwired
Audience Reviews for Hardwired
½
I don't get Cuba Gooding I really don't, he has been in epic's, blockbusters and sensible dramas yet he also tends to make many many straight to DVD cheap budget films just like this. With a mix of various other films and ideas this plot is rather tired, unoriginal and not well made with lots of tacky looking sets and cgi aplenty plus Val Kilmer looking terrible as a computer geek (deliberate I guess). The casting is actually surprising for a crappy film, Michael Ironside, Kilmer, Gooding and an uncredited Lance Henriksen at the very end on a poster, its strange how these small films get such good casts but it still doesn't help this sci-fi flop with a terrible 'made for TV' look and pointless nonsense action and dialog. Bottom of the barrel stuff for Kilmer and Gooding.
Phil Hubbs
Super Reviewer
½
A good cast in this film, shame the film couldn't have been a little bit better
Roy Gutteridge
Super Reviewer
This is one B-movie...that if it were to play in TV...Cuba Gooding Jr. would bring in a Golden Globe if they are rating Sci-Fi Flicks. Thsi move was pretty good being the sci-fi fan that I am. Val Kilmer as the villan in this one would have fared better is he had a better haircut in this movie...I could see this also a s a video game...contender. LOL! THis was good and I was not disappointed at all. I just wish it had better direction while it was being filmed.
Fascade Fiveoneeight
Super Reviewer
Hardwired Quotes
There are no approved quotes yet for this movie.