Harlan County War
(2000)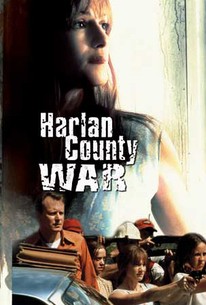 AUDIENCE SCORE
Critic Consensus: No consensus yet.
Movie Info
The true story of one of the most contentious labor disputes of the 1970s is the basis for this made-for-cable drama. In 1973, many of the men of Harlan County, Kentucky, were employed by Brookside Mining, who operated a number of coal mines. Brookside paid its employees meager wages for dangerous, backbreaking work, and also controlled housing and retail sales in the area, boarding its workers in shacks without central heating or indoor plumbing, and selling them food and clothing at inflated prices. Warren Jakopovich (Stellan Skarsgard), an organizer for the United Mine Workers Association, encouraged Brookside's workers to join the union and go on strike for fair wages and better working conditions. Many of the miners simply couldn't afford the loss of income that a strike would mean, but when two workers died as a result of Brookside's willful ignorance of safety standards, most of Harlan County's mine workers finally went on strike. A judge formerly employed by Brookside handed down an order forbidding the workers to picket the mine sites, but Ruby Kincaid (Holly Hunter), whose husband Silas (Ted Levine) was fired for protesting dangerous conditions and whose father was attacked by scab laborers, organized the wives of striking miners to picket in their place. The Harlan County War was based on the same strike portrayed in the Academy Award-winning documentary Harlan County, USA.
Audience Reviews for Harlan County War
½
[font=Century Gothic]"Harlan County War" takes place in 1973 in eastern Kentucky where Ruby(Holly Hunter) and Silas Kincaid(Ted Levine), a coal miner, have been married for almost ten years with two children. Coal mining at this point is a hazardous and low paying operation, and they occasionally talk about moving to Detroit where Silas could work in an auto factory. To add to their worries, Ruby's father(Wayne Robson) is suffering from black lung. [/font] [font=Century Gothic][/font] [font=Century Gothic]With the utility raking in profits of about $90 million annually, the miners want to organize in order to negotiate a contract with the company to improve wages and working conditions but the owners refuse. When that happens, the miners affiliated with the United Mine Workers of America, represented by Warren Jakopovich(Stellan Skarsgard), vote to strike by a vast majority.[/font] [font=Century Gothic][/font] [font=Century Gothic][/font] [font=Century Gothic]Inspired by real events, "Harlan County War" is a solid drama that takes a personal approach by focusing on the travails of one family. Authentic performances and a good eye for detail help matters. It should be remembered that strikes are not tea parties and this film acts as a valuable reminder why unions are so absolutely necessary.[/font]
Harlan County War Quotes
There are no approved quotes yet for this movie.