Harold & Kumar Go to White Castle
(2004)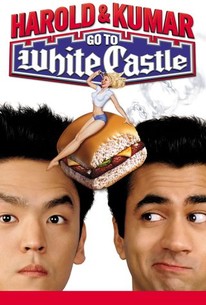 Harold & Kumar Go to White Castle Photos
Movie Info
Directed by Danny Leiner, Harold and Kumar Go to White Castle follows the life-changing (and mind-altering) journey of Korean-American investment banker Harold (John Cho) and Indian-American medical-school candidate Kumar (Kal Penn). Both underdogs, Harold and Kumar decide to spend what would have been an otherwise uneventful Friday night satisfying an oddly intense urge for White Castle hamburgers. However, finding a White Castle proves a highly difficult task, and the two friends wind up on an epic road trip of deep thoughts, deeper inhaling, and enough half-baked, politically incorrect philosophizing to outweigh a White Castle value meal. ~ Tracie Cooper, Rovi
News & Interviews for Harold & Kumar Go to White Castle
Critic Reviews for Harold & Kumar Go to White Castle
Audience Reviews for Harold & Kumar Go to White Castle
½
[img]http://images.rottentomatoes.com/images/user/icons/icon14.gif[/img] Original, unpretentious, funny and above all well written. The "buddy" road movie chemistry of Harold and Kumar, single-handedly revived the stoner comedy genre at the turn of the millennium, however stoner comedies are a kind of comedy film featuring qualities that can range from gut busting and unique, to "Freddy Got Fingered". However this one feature some extremely likable and refreshingly hilarious hero's who sideline the expected racial stereotype humour by giving them a witty and clever character twist, whilst understanding who it's audience is, and offering gross out, in your face laugh out loud humour. It combines raunch, sweet overtones and witty dialogue chopped full of laughs held nicely together by energetic performances from the leads. My only criticism is that many film fans will go and watch "White Castle" with no plausible intention of being baked in the process. That said as somebody who saw this equipped with nothing more than a small soft drink and a bag of popcorn I found enough laughs in it, I can only imagine how hilarious this must be if you're on weed simultaneously. But for me, I see it as easygoing, ridiculous, emotionally engaging fun with enough high and low brow moments to satisfy those who appreciate how good modern comedies can actually be if they bothered to try. After all if it weren't for the outstanding success of Harold and Kumar we wouldn't have stoner comedies like Seth MacFarlanes overly embraced "Ted" and David Gordon Green's Pineapple Express. The best compliment you can give the film is that it's a stoner comedy masterpiece, and it is.
Directors Cat
Super Reviewer
A semi-offensive flick that doesn't take itself seriously... like at all. I'm one of the few people that have seen the 3rd installment before watching the classic "White Castle" iteration so I see how the roots started it all, and frankly, "White Castle" is a dumbed down version of "Christmas 3-D". Yeah, it's "kind of" entertaining, but it's rarely and it's horribly made. Poster says, "From the director of 'Dude, Where's My Car?'" That's not a good way of advertising. Shot, directed, and edited horribly. Other then that, "White Castle" is somewhat of an entertaining road-movie, but if you're looking for high-laughs that split your insides, "White Castle" ain't it. It's sequel does a better job.
½
Hilarious and ridiculous stoner comedy that succeeds by not only being consistently funny, but also smart, witty, and not devoid of substance. Having a Korean American and an Indian American as the heroes of a stoner comedy is refreshing. It's great to see a movie that touches on issues of identity from these viewpoints, and it's even better that it's done with humor. Even though it is one of the many movies to use the trope where the journey is more important than the destination, I'm a huge fan of those types of movies, as well as that belief in general. Even in my own life I see the journey being more important than the destination. This is a great movie that I highly reccomend. And to think, it's all about identity and perceptions of stereotypes, but it's guided by the simple premise of two stoners whose simple trip to deal with the munchies turns into an overblown madcap adventure that involves all sorts of ridiculous situations and colorful characters. That's something awesome, right there.
Chris Weber
Super Reviewer
Harold & Kumar Go to White Castle Quotes
| | |
| --- | --- |
| Harold: | We're so high right now! |
| Kumar: | We're not low! |
| | |
| --- | --- |
| Kumar: | (Holds up middle finger) Thank you, come again! |
| Kumar: | Thank you, come again! |
| | |
| --- | --- |
| Kumar: | Remember that time when we got really stoned and started throwing shit off of that bridge to see if it would float? |
| | |
| --- | --- |
| Harold: | Did Doogie Howser just steal my fucking car? |
| Kumar: | Yes! I think he did. |