Harper (The Moving Target)
(1966)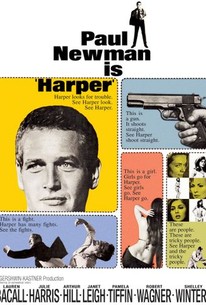 Harper (The Moving Target) Photos
Movie Info
Screenwriter William Goldman has claimed that Paul Newman agreed to do Harper, the film that established the grateful writer's career, only because he was working unhappily on Lady L. (1965) in Europe, and was looking for something as unlike that film as possible. He stars as Lew Harper, a hip L.A. private dick whose business has gotten so bad that he's re-using his coffee grounds. At the suggestion of his friend, attorney Albert Graves (Arthur Hill), the detective takes on the investigation of the disappearance of the wealthy husband of waspish cripple Elaine Sampson (Lauren Bacall). After finding a photograph of former actress Fay Estabrook (Shelley Winters), Harper locates the alcoholic actress in a bar, plies her with booze, and takes her home to search her apartment while she's unconscious. There he takes a call which leads him to another bar to meet Betty Fraley (Julie Harris), a singer with a heroin problem. To curtail his inquisitive behavior, some large and unpleasant gentleman beat him up outside the saloon. Hoping for sympathy from his soon to be ex-wife (Janet Leigh), who has just filed divorce papers, the weary detective is much more successful than he has any right to expect.
Critic Reviews for Harper (The Moving Target)
Audience Reviews for Harper (The Moving Target)
No more no less than a sixties update on Philip Marlowe, with dinner theater lines given good location shooting. The mystery is only a matter of eliminating the obvious which leaves the charisma of the actors involved to carry the piece. Newman has fun as Mar ... er ... the gumshoe. Bacall is no longer the rich man's daughter but now his disgruntled wife although essentially the same character. Strother Martin as a cult leader is without a doubt just a fun casting choice.
Kevin M. Williams
Super Reviewer
Harper has quite the pedigree, it stars Paul Newman, Lauren Bacall, Janet Leigh, Robert Wagner, Jacqueline de Witt AND Shelley Winters. It has a screenplay by Bill Goldman that's kind of a 60's "James Bond Cool" version of a Bogart detective film. Not only that it's shot by Conrad Hall! How can this not be awesome? *Shrug* The film ends up bumbling it's awesome ingredients and turns out to be a very passable, but unremarkable Who-Dun-It. C'est la vie
Ken Stachnik
Super Reviewer
A predictable detective story enriched by Paul Newman's stylish performance :P A few minutes into it and you'd probably know who the perpetrator is.
familiar stranger
Super Reviewer
Harper (The Moving Target) Quotes
There are no approved quotes yet for this movie.