Hart's War
(2002)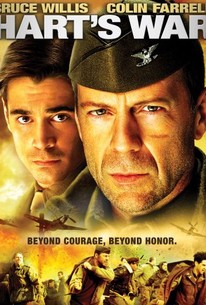 TOMATOMETER
AUDIENCE SCORE
Critic Consensus: Well-made and solidly acted, Hart's War is modestly compelling. However, the movie suffers from having too many subplots.
Movie Info
Based on the novel by John Katzenbach, author of Just Cause (1995), this prison camp drama combines elements of A Soldier's Story (1984) and the classic Stalag 17 (1953). Colin Farrell stars as Lt. Tommy Hart, a second-year Harvard Law School student who enlists to fight in World War II but ends up being taken prisoner by the Germans. When a murder at the Nazi-run Stalag Luft 13 leaves a black Tuskegee airman named Lt. Lincoln Scott (Terrence Dashon Howard) accused of the crime, high-ranking prisoner (and fourth-generation war hero) Col. William McNamara (Bruce Willis) persuades camp commandant Col. Werner Visser (Marcel Iures) to allow the prisoners to hold their own trial. Hart is recruited to defend his fellow officer, but as he reluctantly investigates, he discovers that not all of his fellow allied soldiers are fighting the same war and that his "client" may well have been framed. In the meantime, it becomes apparent that McNamara is using events to mask his true intent, a mission to destroy a nearby munitions plant that he still intends to carry out despite his incarceration. Hart's War (2002) co-stars Vicellous Shannon, Cole Hauser, Rory Cochrane, and Jonathan Brandis.
Critic Reviews for Hart's War
Audience Reviews for Hart's War
Hart's War is a very interesting and intriguing Thriller set during the Second World in a POW camp. Hart's War may not be a perfect film, but it dies manage to keep you entertained throughout. Helmed by director Gregory Hoblit, who is a very underrated and talented director, Hart's War is a well acted film with a good enough story. Many reviewers complain that it's a courtroom drama, well no shit, it is in a way. Theres nothing wrong with that, and I found the second half of this film to be quite good. Obviously Hart's War is not a perfect film, theres way too many flaws to count, but the way I see it, is it's an entertaining dramatic thriller with typical Hollywood elements to make the film more appealing to a wider audience. This film is not meant to be realistic in any way, it's just pure entertainment. Simple as that. The film boasts a decent cast of actors, and along with Phone Booth, this is Colin Farrell's best film, I'm not really a fan of his work, but in these two films he's very good. Overall, Hart's War is a pretty good dramatic Thriller, it may try to be too dramatic at times, but it's still a pretty good film worth watching. One of more interesting aspects of this film the numerous twists that unfold throughout, I found them quite thrilling, and you never get an idea of what really is going on till the very end. Before dismissing this film, give it a shot; for me it's a strong 6 out of 10. The actors playing the characters are well suited and just with the idea in mind that a "law student is assigned to defend a black prisoner accused of murder" should give the potential viewer a heads up that this will venture into courtroom drama territory. It's not the best film setting, granted, but it's certainly not the worst. A good enough film to watch on a rainy day.
I really don't know, where to place 'Hart's War'. The film starts as a normal POW (prisoner of war) movie, but when the second half begins, it turns into a courtroom drama. Gregory Hoblit, the director of 'Hart's War', has had somewhat of a rollercoaster type of career. After a good movie, he gives us a poor one. He started his feature film career with the excellent 'Primal Fear', then came 'Fallen'. After these came ''Frequency', 'Hart's War', 'Fracture' and then 'Untraceable'. See what I mean? Almost came queasy... 'Hart's War' does have some good scenes but in overall, the film is very uneven. The characters have almost zero depth in 'em. The film also tries to deal with racism but the whole issue was in the end buried beneath the screenwriters unimaginative end twist. Colin Farrell and Marcel Lures give nice performances but the rest of the cast seem to enjoy a nice holiday in a POW camp type of holiday resort. If I were a POW, I'd like to spend some time in a camp where the prisoners have their own theatre and leisure rooms. Pretty far fetched? 'Hart's War', you'll love it or hate it. Or get bored as I did. For fans of Farrell and Willis only. Those who seek for something better, try a classic like 'Stalag 17'.
pretty decent war time film mixed with court room drama
Hart's War Quotes
| | |
| --- | --- |
| Col. Werner Visser: | Look around you.....this is not Geneva. |
| | |
| --- | --- |
| Col. William McNamara: | "If we dual, we both lose." |
| Col. William McNamara: | If we dual, we both lose. |