Harvard Man
(2002)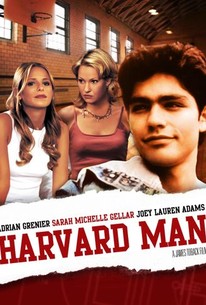 Movie Info
Director and screenwriter James Toback used his own experiences as a college student in the 1960s as the basis for this drama about a present-day student athlete who's bitten off more than he can chew. Alan Jensen (Adrian Grenier) is a college sophomore struggling to keep up with an unusually busy schedule -- while studying philosophy as a Harvard undergrad, he's also a point guard on the school's basketball team, and is juggling two girlfriends, cheerleader Cindy Bandolini (Sarah Michelle Gellar) and Chesney (Joey Lauren Adams), a professor ten years his senior. As Alan tries to stay on top of his classes and keep his love life sorted out, he receives some bad news from his parents -- a tornado has devastated their home, and they need $100,000 to rebuild. Alan wants to help his parents, and as it happens, Cindy's father is a Mafia boss tied in with a number of powerful bookies. Cindy uses her family's connection to put Alan in touch with Teddy (Eric Stoltz), a bookie who's willing to give Alan $100,000 in exchange for throwing a few games and shaving some points. Cindy also uses her dad's bankroll to place a quarter-million dollar bet on the upcoming Harvard-Dartmouth game, certain Alan can ensure a predictable outcome. But when the games don't go quite the way Alan expected, despite his best worst effort, he finds himself in dutch with the Mafia, while also attracting the attention of FBI agents who've been investigating Teddy and his associates. Amidst this chaos, Alan hops a jet home to give his parents the ill-gotten $100,000, and on the flight back decides to relax mid-flight by dropping a heroic dose of LSD, which turns out not to be one of his better ideas. Harvard Man was originally intended to star Leonardo DiCaprio as Alan, but after the project was put on hold in 1994, DiCaprio rocketed to fame in Titanic, which priced himself out of the project by the time James Toback was able to return to it years later. ~ Mark Deming, Rovi
Critic Reviews for Harvard Man
Audience Reviews for Harvard Man
Not all that good. I liked the actors but the characters were not likable and I ended up not caring what happened more and more as I watched it.
Jason Spencer
Super Reviewer
Lots of sex, deception and an adventurous storyline. Even if you don't like the plot, which involves a manipulative FBI investigation and a points-shaving scam, you'd enjoy the hilarious 'acid trip' scenes. Grenier, Adams and Stoltz are very convincing, yet there are a few pretentious actors who barely achieve a decent portrayal (Gayheart, Gellar, etc). Great direction, especially surrounding the schizophrenic acts where Alan's (Grenier) mind is galloping on a triple-heavy dose of LSD. Take my advice: Stay away from acid.
Chosen 718
Super Reviewer
Harvard Man Quotes
There are no approved quotes yet for this movie.