Hatari!
(1962)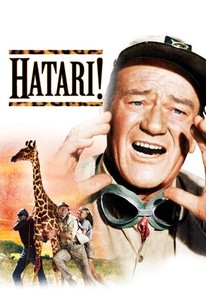 Movie Info
Hatari! is Swahili for "danger"--and also the word for action, adventure and broad comedy in this two-fisted Howard Hawks effort. John Wayne stars as the head of a daring Tanganyka-based group which captures wild animals on behalf of the world's zoos. Hardy Kruger, Gérard Blain and Red Buttons are members of Wayne's men-only contingent, all of whom are reduced to jello when the curvaceous Elsa Martinelli enters the scene. In tried and true Howard Hawks fashion, Martinelli quickly becomes "one of the guys," though Wayne apparently can't say two words to her without sparking an argument. The second half of this amazingly long (159 minute) film concerns the care and maintenance of a baby elephant; the barely credible finale is devoted to a comic pachyderm stampede down an urban African street, ending literally at the foot of Martinelli's bed. The other scene worth mentioning involves comedy-relief Red Buttons' efforts to create a fireworks-powered animal trap. Not to be taken seriously for a minute, Hatari is attractively packaged and neatly tied up with a danceable-pranceable theme song by Henry Mancini. ~ Hal Erickson, Rovi
News & Interviews for Hatari!
Critic Reviews for Hatari!
Audience Reviews for Hatari!
½
A plotless (and interminable) travelogue that seems more like a cheap excuse for Hawks to spend vacation in Africa, and it is hard to empathize with hunters working to catch animals for zoos (I was rooting for the rhinos) but at least the characters are charismatic (despite the casual sexism).
Carlos Magalhães
Super Reviewer
½
Howard Hawk's classic safari adventure may be set in Africa and have plenty of huge scenes of men in cars chasing down animals. If you take that away, it is basically a romantic comedy, though. It is highly amusing to see what men turn into when a new female enters their territory and the little fights that causes. The lovable characters and light-hearted mood of the film make for a very entertaining experience. While the action sequence of the animal hunts do get a bit repetitive, they are still impressively filmed, look and feel real without a lot of special effect that'd probably be used today. The film easily could have been 15 minutes shorter, but it's still a lovable and charming experience to spend two hours with that crew of characters.
I'd like to see a lot more John Wayne movies in the future, but for now this is the only one I know I've seen right off the bat, and I enjoyed it a lot. It has a sort of love story to it, but the parts I remember most are when Wayne and the others are chasing a bunch of animals. It's like a fast-paced African safari!
Jason Owens
Super Reviewer
Hatari! Quotes
| | |
| --- | --- |
| Sean Mercer: | "Oh you'll move around alright!" |
| Sean Mercer: | Oh you'll move around alright! |
| | |
| --- | --- |
| Sean Mercer: | "Start out easy" |
| Sean Mercer: | Let's go, start out easy. |