Hatchet III
(2013)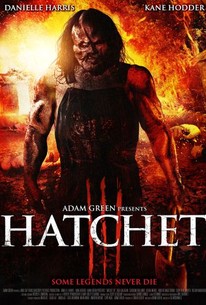 Movie Info
HATCHET III continues the tale of the now-iconic villain Victor Crowley (Kane Hodder). As a search and recovery team heads into the haunted swamp to pick up the pieces and carnage left behind from the first two films, Marybeth (Danielle Harris) hunts down the true secret to ending the voodoo curse that has left the ghost of Victor Crowley haunting and terrorizing Honey Island Swamp for decades. (c) Dark Sky Films
News & Interviews for Hatchet III
Critic Reviews for Hatchet III
Audience Reviews for Hatchet III
This is a considerable improvement over Hatchet 2. I don't even know what it was that made this film so much better than its prequel, because, essentially, they're the same exact film with very little that's actually different. But, I don't know, I thought the film was better paced than Hatchet 2, the horror/gore was, obviously, very over-the-top and tongue-in-cheek. I wouldn't call this a parody of slasher films, but it does poke fun at some of the tropes. Like, for example, how a lot of these monsters keep coming back film after film, no matter how devastating an end they met in the previous film. The film plays with that here and it's actually probably one of the more important elements of the film, in how you actually get rid of Victor Crowley. While how they did end up getting rid of him might seem stupid, particularly considering everything that was done to him, it actually makes sense within the context of what the film is trying to do, so I had no problem with that. Maybe I'm overrating the film, but I honestly had quite a bit of fun watching this film. It's not what you would call a great horror movie, and it was never actually meant to be one. But as far as quick, doesn't overstay its welcome diversion, then it works pretty damn well to be honest. Another reason I think I'm overrating this film is the fact that Sid Haig made an awesome cameo appearance in this film. His appearance definitely made the film a little bit better to me and, without him, it's very likely that I'd have given the film 2.5 star rating. It's not that I didn't have fun, but Haig's appearance made the film better than it would've been without him. And it's not even a cameo that goes more than five minutes. With that said, I think I still would've enjoyed the film in a more B-movie type of way, even if I didn't give it a good rating. There's a lot of gore, duh, and it's obviously completely over-the-top, just what you would expect. The film is surprisingly well paced for this type of film. Like there's a good balance of gore and 'story'. Not that there's honestly much of a story to speak of, but it is there and they find a good balance between those two elements to make sure that the film doesn't peak early. So that was cool. The film, obviously, has its comedic elements and it's clear that this isn't meant to be taken seriously in the slightest. So I enjoyed this movie. It's got good gore and good tongue-in-cheek tone. Hatchet fans will definitely enjoy this one. It's a fun time.
Jesse Ortega
Super Reviewer
Hokey trash with a story that was absolute bobbins in the first film and is one step beyond parody here, but Danielle Harris is somehow superb and the ludicrously over-the-top gore effects and high body count, not to mention scant running time, makes the film enjoyable.
Daniel Parsons
Super Reviewer
Well first off, It's a Hatchet movie, so of course I'm going to give it 5 stars. So Hacthet III begins right where the second one left off, and basically the movie follows both Marybeth and some crazy old lady and a S.W.A.T team off in the swamp investigating the murders of Victor Crowley; and yes, Victory Crowley eventually attacks them. Do not expect Danielle Harris to be the main star of this film, however. She isn't in it as much as the second one, and definitely needed more screen time. But just like the first 2, this film is a non-stop gore fest. I really can't compare a Hatchet film based off the violence, they're all the same to me. But this movie is definitely the most "serious" of the Hatchet films, unlike the first 2 that you could almost call Horror-Comedies. I'm not saying this is a Dark and Gritty film, because it does still have humorous and comedic moments, like a pair of balls dangling from a tree. Yeah, you read that right. But Hatchet III delivers, just like the way it should. There are also quite a bit of unexpected cameos as well, which I will not spoil...including one reoccurring character from the previous films that comes from the open, which I will DEFINITELY not spoil. But overall, Hatchet III is a great finale to the one and only Hatchet franchise. Although it isn't the best of the series, the first will always be the best, I do think it is a slight better than the second. But hey, personally I like all of them just the same. Now I will not spoil the ending for you, but let's just say, it's the perfect way to end a great Horror movie franchise that will hopefully live on forever.
Jacob Palacio
Super Reviewer
Hatchet III Quotes
There are no approved quotes yet for this movie.