Haunted Prison
(2006)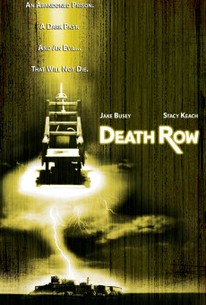 AUDIENCE SCORE
Critic Consensus: No consensus yet.
Movie Info
Stacy Keach, Jake Busey and Jamie Mann star when young filmmakers and a gang of thieves must unite in an abandoned island prison when the haunted jail itself becomes a deadly threat.
Critic Reviews for Haunted Prison
There are no critic reviews yet for Haunted Prison. Keep checking Rotten Tomatoes for updates!
Audience Reviews for Haunted Prison
Death Row is a terrible B moving that had the potential of being something terrific. Unfortunately due to the fact that the script is poor, the special effects look cheap and that the acting is poor, Death Row is one terrible horror film. The film had an interesting concept about a documentary crew filming in a haunted prison. Unfortunately, the filmmakers don't know how to effectively construct a suspenseful, horrifying picture and the result is awful. What could have been a wonderful horror film turns out to be a total mess with a poorly constructed plot, under developed characters, and poor directing. Death Row is a total disappointment, and for me, anyways is one of the worst Low-Budget horror films that I've seen in quite some time. Death Row may have had a great concept for a haunted house style film, although in this case it's a haunted prison. Unfortunately the film goes nowhere, and most of "terrifying" elements are laughable. I think that if the film had a better cast, better script, this film could have worked. The film was disappointing and it fails to entertain. In fact it took me everything to finish this film as it was so poorly crafted that it has to stay involved. Death Row could have been a good film, but it's a total disappointment and an awful film from start to finish.
Not the worst horror films ever made (saved mainly by having a little gore factor), but really rubbish acting and the storyline seemed to have much more potential that it actually gave. Watchable in a miss-able way.
Lady D'arbanville
Super Reviewer
Haunted Prison Quotes
There are no approved quotes yet for this movie.