Haunter
(2013)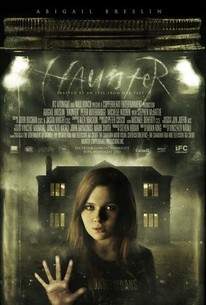 Movie Info
Lisa Johnson is one day shy of her sixteenth birthday. And she will be forever. She and her family are dead and doomed to repeat that fateful last day before they were all killed in 1985. Only Lisa has "woken up" and realizes what is going on. She starts to feel as if she is being haunted, but the "ghost" turns out to be Olivia, a very much alive girl who lives in the house in the present day with her own family. With her help, Lisa discovers that the house once belonged to a serial killer who kidnapped teenage girls and burned their remains in a hidden furnace room. When he died, he became a Haunter - a powerful, evil spirit able to possess the living. (c) IFC Films
News & Interviews for Haunter
Critic Reviews for Haunter
Audience Reviews for Haunter
½
Even though it lacks enough scares for a horror film and is a bit more predictable than it has any right to be, this is an efficient new spin on the haunted house movie with a mystery that can be quite compelling when you have no idea what it actually is about.
Carlos Magalhães
Super Reviewer
Vincenzo Natali makes good use of "fog" in Haunter. That is both a positive and a negative.
The story has an interesting concept going for it and the film's first act is a definite hook. The rest of the 90+ minute story, while showcasing a few other positive tidbits, tends to be unexciting, predictable, and even a bit fuzzy with some of its plot details.
The dark atmosphere and storytelling create a nice level of suspense with only a few minor scares to back it up. This is much more a mystery thriller than it is a horror.
Despite a lackadaisical pace, Abigail Breslin has some spunk in her performance and that stands out over everything else in this picture. Stephen McHattie also finds himself with a fitting character.
Haunter never pushes itself into greatness; however, it does have enough to pass the time. Once again, the introduction contains the most intrigue.
An uninspiring ghost story, Breslin does well with an uninteresting and un-suspenseful script.
Film Crazy
Super Reviewer