The Haunting of Molly Hartley
(2008)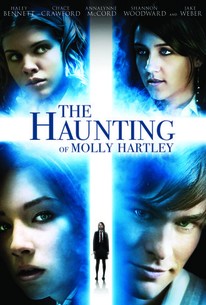 The Haunting of Molly Hartley Photos
Movie Info
Go and Broken Hearts Club producer Mickey Liddell makes his feature directorial debut with this suspense thriller about a high-school student who arrives in a new town only to find that her frightful past won't be forgotten so easily. Molly Hartley (Haley Bennett) was all ready for a fresh start in life, and kindly classmate Joseph (Chace Crawford) was more than willing to help out by showing her the ropes around school. But Molly Hartley is a girl with a sinister secret. Only when she discovers the truth about who she really is will she finally understand what she might one day become. ~ Jason Buchanan, Rovi
Critic Reviews for The Haunting of Molly Hartley
Audience Reviews for The Haunting of Molly Hartley
½
It wasn't that bad, but the ending was really awful and ruined the whole thing! I suppose, thinking about it, at least it was a bit original for a story of this type, but it still wasn't really what you would expect or hope for! Up until the end, this is okay for a b-grade, straight to DVD type movie. Haley Bennett is fine as Molly - not the greatest actress, but you could buy it (just). Chase Crawford also not overly convincing, but looks nice - really, what else can you hope for in this type of thing?! Shanna Collins as Alexis is probably the most convincing of the lot and she plays the "crazy" Christian girl. Jake Weber as Molly's Dad, also failed to convince. However, as previously stated, the movie looks nice enough, young attractive cast, as a dumb thriller/horror it works okay, if you keep your expectations low and try to ignore the stupid ending. At least it was entertaining.
Nicki Marie
Super Reviewer
I almost didn't watch it, the first 5 minutes were pretty boring and strange. But then it got nutty real fast. It held me at the edge of my bed till the end wondering what's going on, who's insane, what's real?! It's creepy, religious, fun and it has Chace Crawford in it. Plus, not one, but two girls from 90210. Awesome!
Alexis Nomm
Super Reviewer
½
The story had potential, but it got really slow and confusing in between. A young girl and her father move into a new town to start over after her mother was sent to live in a mental institution. As her 18th birthday draws near, she is haunted by the memories of her mother trying to kill her. The ending ruined the whole movie.
The Haunting of Molly Hartley Quotes
There are no approved quotes yet for this movie.