Catch Us If You Can (Having a Wild Weekend)
(1965)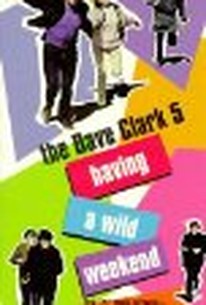 AUDIENCE SCORE
Critic Consensus: No consensus yet.
Movie Info
At one time, The Dave Clark Five were considered the Beatles' key rivals in international pop stardom, and so, when the Fab Four made a smash at the box office with A Hard Day's Night, Mr. Clark and his partners followed with Catch Us If You Can (also known as Having A Wild Weekend). Dinah (Barbara Ferris) is a famous model and actress who is getting tired of life in the limelight and wants to take a break. While shooting a commercial spot for meat, she meets Steve (Dave Clark), a stuntman. Dinah and Steve hit it off and decide to head to an island to get away from it all (bringing along four of Steve's friends, Mike Smith, Lenny Davidson, Denis West Payton, and Rick Huxley, who -- surprise! -- play music with him). Before long, Dinah is reported missing and everyone is looking for her, making their getaway anything but tranquil. While A Hard Day's Night launched director Richard Lester into international success, Catch Us If You Can was the feature debut for John Boorman, who similarly went on to bigger and better projects. Songs featured include "I Can't Stand It," "Catch Us If You Can," and "Having A Wild Weekend." ~ Mark Deming, Rovi
Critic Reviews for Catch Us If You Can (Having a Wild Weekend)
Audience Reviews for Catch Us If You Can (Having a Wild Weekend)
Sure, "Having a Wild Weekend" (sometimes titled "Catch Us If You Can") is clearly the Dave Clark Five's answer to "A Hard Day's Night." But it does buck expectations. The main surprise is that the group doesn't quite portray itself. Four of the five members play characters with the same first names, but Clark himself is "Steve." Why? And while the gang is presented as a musical group successful enough to tour Spain, there is no performance footage. Not even an instrument is seen. DC5 songs do appear in the soundtrack, however, both as background score and as party music. (Alas, "Catch Us If You Can" is the only tune that holds up well.) In this alternate present, "Steve" and his bandmates work primarily as stuntmen and extras. Their current project is a TV commercial for meat (the goofy slogan: "Meat for Go!!"). But during the shoot, Steve and the star -- an energetic blonde named Dinah (Barbara Ferris) -- spontaneously decide to take a joy ride. Ultimately, they hope to check out a small island that she intends to buy. Can they get there before Steve's friends and the corporate suits track them down? Steve and Dinah meet up with various people along the way, notably some nomadic hippies and a peculiar wealthy couple. But their travels aren't particularly colorful, surreal or entertaining. And the script isn't even a good showcase for the band's charisma, because Clark grabs 95% of the lines (the producers obviously realized that he was not only the group's leader but its most photogenic member). "Wild Weekend" was the first feature of director John Boorman (Deliverance, Point Blank, Excalibur), and he already had plenty of skills. His cuts aren't as flamboyant as those in the Beatles' films, but he keeps the story briskly moving. The cynicism about advertising hits a chord similar to the "dead grotty" scene in "Hard Day's Night," and the saving grace is a "realistic" ending that adds some crucial depth. Nicely done.
Eric Broome
Super Reviewer
½
The light rhythms of the editing and the duration of every camera movement are so absolutely perfect, and every framing is so right... It's Boorman's first feature but the filmmaking is already his most mature. And the movie itself maintains a "mature outlook" on youth that somehow doesn't offer self-righteous hindsight or patronizing nostalgia. Some of the acting inexperience of the Dave Clark Five had to be written around but there is a lot of good dialogue, and Barbara Ferris's performance keeps the story from becoming dippy. Catch Us If You Can has a wonderful documentary aspect, capturing of English streets against the commercial side of pop culture -- with the actors, fake ad campaign and the filmmaking apparatus being toted throughout the country. And it has a great centerpiece that the screenwriter won't let finish as sardonic: an inheritance-fed husband and wife, in a extended quarrel of a marriage, half-tries to seduce the young lovers ... but, as though by necessity of their aging faces, settle on proving that their spouse is jealous. They're confessed escapists, part-time vampires of youth culture. But in participating in the runaway couple's adventure, they somehow find themselves again and see each other -- unselfconsciously, at a costume party which adult hosts have stocked with youths -- as if the painful years had never transpired. It feels like a youthful wish implanted in the audience: wanting against all probability that the husband and wife will remember each other like that once the scene is over.
Adam Mahler
Super Reviewer
Catch Us If You Can (Having a Wild Weekend) Quotes
There are no approved quotes yet for this movie.