Havoc
(2005)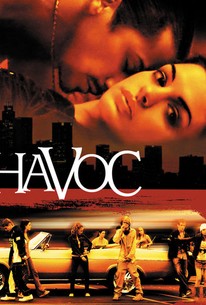 Movie Info
A pair of naïve young girls learn that even the most insignificant actions can have lasting consequences in this music-driven take on teen culture starring Anne Hathaway and Bijou Phillips and directed by two-time Oscar-winning filmmaker Barbara Kopple. Influenced by the hip-hop thug lifestyle and seeking to explore life outside of their insulated, culturally homogenized suburb, pretty young teenagers Allison (Hathaway) and Emily (Phillips) set their sights on East L.A. to experience the "gangsta" lifestyle firsthand. By the time the pair meet some true-life Latino gang-bangers and realize just how far out of their element they really are, it may already be too late to turn back.
Audience Reviews for Havoc
½
Eh, this movie was kinda stupid and the characters were annoying...they got what they deserved.
Good, not great. I have to give Anne Hathaway credit for playing away from type, though, and doing a good job of it. i would have liked the ending to be not quite so abrupt.
Nicki Marie
Super Reviewer
A cheap exploitation movie made cheaply, and it shows - repeatedly. It tries *so* hard to be meaningful and insightful and yet, but it ultimately presents scenes that shock to keep the viewers' attention. It's not Anne Hathaway's shining moment, either - and this is in spite of several topless and semi-topless scenes. Boring at best and ignorant and somewhat racist at worst. Watch the 'highlights' on Mr. Skin and skip this movie.
Havoc Quotes
There are no approved quotes yet for this movie.