He Died With A Felafel In His Hand
(2001)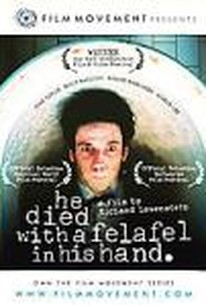 He Died With A Felafel In His Hand Photos
Movie Info
Danny (Noah Taylor) is a young man seemingly used to chaos, but he soon discovers that the fates are more than capable of dishing out more than he can handle in this offbeat Australian comedy. By his own count, thirtyish Danny has found himself sharing living quarters with one or more friends more than four dozen times in the past; one might imagine this would make him immune to roommate problems, but that soon proves not to be the case. While sharing a house in Brisbane with a handful of sloppy guys -- and one woman, Sam (Emily Hamilton), who ought to know better -- Danny finds himself obsessing over his most recent relationship, which crashed and burned six months before. The arrival of Anya (Romane Bohringer) picks up Danny's spirits, until he discovers she's dating Sam; this sets off his impulsive instincts, and too much spending (and too much damage to his rented house) forces Danny to high-tail it to Melbourne. Sam soon follows, smarting from a break-up with Anya, and she ends up sharing a flat with Danny. Danny's money management skills have not improved a bit, and he is soon on the run to Sydney, where he and Sam find themselves crashing with Nina (Sophie Lee), an actress with an eating disorder, and her gay friend Dirk (Francis McMahon). Just as Danny and Sam seem to be getting settled, Anya arrives, looking to reconcile with Sam; things get complicated for Danny, and he ends up moving in with Flip (Brett Stewart), an old friend with a severe drug problem. He Died With A Felafel In His Hand was adapted from the popular novel by Australian author John Birmingham. ~ Mark Deming, Rovi
Critic Reviews for He Died With A Felafel In His Hand
Audience Reviews for He Died With A Felafel In His Hand
I don't think I "got" this. I do like to watch a good Australian movie, but, to me, this isn't one of them. Stupid random little pieces of life in a share house. Unconvincing characters and acting (even though some of this cast are good and have liked them in better movies). It seems I am in the minority here as a lot of people seemed to like this, but I just found it stupid. And I generally prefer art house films, so that shows how much I think this one sucked.
Nicki Marie
Super Reviewer
Dead roommate, pagans, skinheads, overdue rent, a suicidal bisexual female friend, and Nick Cave songs are a part of the lead characters' life as he drifts from place to place reluctant to settle down. Advise you to set your level of humor to "absurd" and guaranteed you'll enjoy. One of the highlights to watching this film is the looks your friends might give when you recommend the title.
El Hombre Invisible
Super Reviewer
Review tbc. Totally strange, quirky and so profound...we find a philosopher in the body of a misfit who seems to be a nomad more than anything else and all he wants is to find a home where he belongs it seems.
Bannan instant enigma- just add water
Super Reviewer
He Died With A Felafel In His Hand Quotes
There are no approved quotes yet for this movie.