He Got Game
(1998)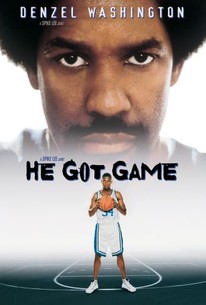 TOMATOMETER
AUDIENCE SCORE
Critic Consensus: Though not without its flaws, He Got Game finds Spike Lee near the top of his game, combining trenchant commentary with his signature visuals and a strong performance from Denzel Washington.
Movie Info
Denzel Washington does some of his best work as a prison inmate trying to earn himself an early release by talking his estranged son into playing basketball at the governor of New York's alma mater.
News & Interviews for He Got Game
Critic Reviews for He Got Game
Audience Reviews for He Got Game
½
Spike Lee, dare I say, is the first Hollywood spokesman of black culture, and what do you know, Denzel's involved with another one of his projects, "He Got Game". "He Got Game" may just seem like just another basketball movie but underneath the hood is a compelling story about tension between a father and son. And for the most part, the story sells itself. Coupled with the great Denzel and even Ray Allen, there's a lot of opportunity. However, because this film was made near the beginning of the permeation of black culture into Hollywood, it fails to develop a true tone that encapsulates what black culture is truly about. Don't get me wrong -- Spike Lee vividly portrays the culture through the narrative, but the writing and the score becomes extremely tacky. Raw and gritty scenes occur throughout which is, at times, shocking but it's all paired with a very "Disney" like music. It's extremely jarring. In the end, it's all about how effective the movie was. And was it? Absolutely. With the sharp direction from the eyes of Spike Lee, to the superb acting from Denzel, "He Got Game" not only sells itself as a captivating story, but also as a solid film.
½
Great visuals and performances though it falls short in the end, still a worthwhile minor work from Spike Lee.
Graham Jones
Super Reviewer
Spike Lee is one of the very few filmmakers possessing the heart and soul of an auteur, but none of the self righteousness. He Got Game is a perfect example of the directors sensibilities. Most basketball movies tell coming of age stories against gritty backdrops that all lead up to some big game. Lee's film is practically void of all such cliches. The central narrative does build around a father trying to reconnect with his son, but the narrative progresses in ways that most screenwriters or directors would be afraid to allow. The movie explores how everyone - agents, politicians, legal guardians, even girlfriends - scrambles to get a piece of the possible glory and money behind a rising high school basketball star. But it also maintains a central focus on the basketball star and how close he is to reaching his dreams. This allows for an interesting mix in tones, where the character's field of dreams mixes with the harsh reality of the sport as a commercial entity, filled with people who's only goal, like in all business, is to make money. At the heart of it all is Denzel Washington, a convicted murderer who happens to be this young star's father. He is let out on temporary parole to try and get his son to sign with a particular university basketball team. If he does, he might be released permanently. Regardless of the outcome, this allows the father to find some redemption in helping his son figure out his life. The end is anti-climactic, but beautifully executed, displaying Spike Lee at his artistic best.
Edward Boxler
Super Reviewer
He Got Game Quotes
| | |
| --- | --- |
| Jake Shuttlesworth: | Even I can't save this movie from the awkward direction of poser Spike Lee. |