He Knew He Was Right
(2004)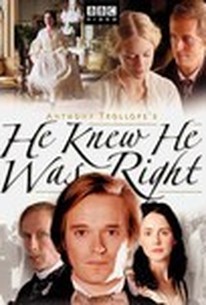 AUDIENCE SCORE
Critic Consensus: No consensus yet.
He Knew He Was Right Photos
Movie Info
When Louis and Emily Trevalyan exchanged wedding vows on a day that seemed to mark the beginning of a blissful union, little could they foresee the trials that would face them in their first year of marriage. As Anthony Trollepe slowly peels away the layers of Victorian propriety, a variety of colorful characters are revealed, including a colonel of questionable morals who makes unwholesome advances to the newlywed bride. As the fans that fuel Louis' jealousy soon give way to a raging inferno, the dejected groom rejects his wife and newborn son leading to a tragic bid to destroy everything in the world that he loves. ~ Jason Buchanan, Rovi
Critic Reviews for He Knew He Was Right
Audience Reviews for He Knew He Was Right
½
I rather enjoyed this nice drama, BUT I wanted so much to reach into my screen and slap that husband. Holy cow was he ever a total idiot. Obviously, he had some kind of mental illness that was causing him to act that way, and which finally did him in. Watching him just made me madder and madder. The movie was so nicely done, though, and the rest of the people were able to have happy endings. So...made up for it I guess.
Cynthia S.
Super Reviewer
A Victorian morality tale of jealousy that leads to insanity. An infuriating self-righteous prig, Louis Trevelyan (Oliver Dimsdale), is so convinced that his innocent, young, and beautiful wife, Emily (Laura Fraser), has betrayed him that he will not listen to anyone who tries to convince him otherwise. He goes to great lengths to prove himself right, by hiring a disreputable private detective, Bozzle, to spy on her. And, although the detective gets things wrong from the get-go and is found out, rather than admit he is wrong, the husband sends Bozzle back in to continue his surveillance. Several other romances are played out, between Emily's sister and a young journalist, the journalist's sister and a cousin by marriage, and the village vicar and a pair of silly sisters. If not for the maniacal self-deception of Louis, and his constant error of judgement and deed, this would have been a quite joyful tale, indeed. But, madness will not succomb to reason, no matter how prettily it is dressed. Bill Nighy is properly smarmy as the raconteur who sets the ill-fated events in motion. Well-done, if just a bit melodramatic.
Mark Abell
Super Reviewer
He Knew He Was Right Quotes
There are no approved quotes yet for this movie.