He Knows You're Alone
(1980)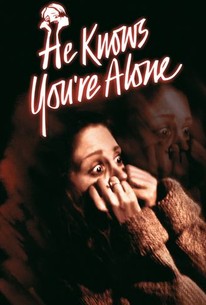 Movie Info
He Knows You're Alone is a routine slasher movie, directed by Armand Mastroianni, about a young bride menaced by a maniacal killer. She seeks the help of a former boyfriend, and as they try to discover the identity of the killer, the body count mounts. This film, neither stylish nor clever, has little to recommend it, though trivia lovers should note the appearance of veteran actor James Gleason and -- in a supporting role, Tom Hanks in his film debut. He Knows You're Alone was also released as Blood Wedding, not to be confused with the beautiful flamenco dance film by Carlos Saura (aka Carmen).
Critic Reviews for He Knows You're Alone
Audience Reviews for He Knows You're Alone
½
First of all this movie isn't very scary, it would be tame even for the early 60s. The story is pretty boring, really, the characters aren't interesting, the murderer isn't scary, and the ending is horrible. I was surprised that Tom Hanks was in this movie, though. Overall not a good movie, but it could be worse.
Yet another enjoyable 80's slasher but added with a little something different. The characters are not stupid teens, the killer doesn't wear a mask and there is not gratuitous gore and nudity prioritized for plot and story. This is actually a really neat and slick slasher film, and not as sleazy as many other movies of the same type. The acting is above average. Caitlin O'Heaney is a really sincere and likable heroine, who - like her on screen friends - is so sympathetic that you really care for her. Don Scardino is also very likable, and fun, as O'Heaney's ex-boyfriend. Also, for curiosity seekers, a pre-fame Tom Hanks (in his debut) pops up in an early role and fits in rather well. Too bad his on screen time is limited to two scenes where he explains the psychology of fear. This film has quite a bit of suspense and thrilling horror and adding to the suspense and thrills. Only O'Heaney's character is aware that something's wrong and it's her fear that we can sympathize with. Also there are effective locations like amusement parks, movie theatres (in a good opening scene that obviously inspired "Scream 2") and a big house. Unfortunately the film has some serious flaws. It would work really well as a thriller but is obviously built up like a slasher film. Still it lacks gore and the murders are very unoriginal and often off-screen. Also, like many horror films this starts out great but falls back on a disappointing climax. After behaving pretty rationally throughout the movie our heroine makes several stupid mistakes before turning into a wimp who doesn't seem to be able to defend herself. All in all a slick slasher film with a good and likable cast sympathetic characters and suspenseful situations.
Cassandra Maples
Super Reviewer
½
Really eerie nasty chiller....I loved it.
Barry Lappin
Super Reviewer
He Knows You're Alone Quotes
There are no approved quotes yet for this movie.