He Ran All the Way
(1951)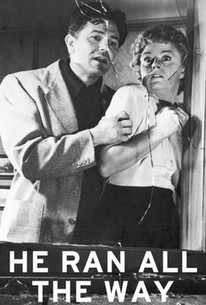 He Ran All the Way Photos
Movie Info
This is the final film of talented actor John Garfield, who died at the age of 39 shortly after filming was finished. He plays a hardened thug who gets involved with plans for robbing a payroll truck. Unfortunately, he isn't very bright. During the caper, something goes awry and the would-be robbers panic. Gunplay ensues and only Garfield is able to escape with the cash. While on the lam, he is discovered by a kind-hearted, poor girl who takes him to her family's run-down apartment to recover until her parents, who have gone out, return. They become lovers and he is still there when the parents return. Once again he panics and threatens the family with his gun. He plans to leave in the morning and take the girl with him, but first he needs a car. The father later learns that the guard, wounded by the crook, has died. Knowing that he is dealing with a ruthless killer, the father begins plotting the robber's demise. After a long night for the family, the thief grabs the girl and prepares to leave, not realizing that the angry father lies in wait.
Critic Reviews for He Ran All the Way
Audience Reviews for He Ran All the Way
Like the title the movie missteps, but this is a classic for several reasons: John Garfield's last movie. 1st film to use the family trapped by a criminal storyline and more. Best reason to see it though is James Wong Howe's brilliant noir cinematography.
Aldo Gandia
Super Reviewer
Intense drama of a man on the run who slowly crumbles while waiting to escape from the desperate situation he has created for himself. This tense noir was the end of the line for John Garfield who because of unjust hounding by HUAC and the dasterdly Joseph McCarthy died shortly after from a heart attack brought on by the stress. He is exceptional as always supported by three other strong perfomers, Wallace Ford, Shelley Winters and fellow blacklist victim Selena Royle.
½
decent enough noir; the first of the 'home invasion' thrillers and the last of john garfield's career. alot of people were broken by the blacklist, few as tragically as garfield, a major star and great anti-hero who refused to name names and was banned for life, dying only one year later at age 39 and today mostly forgotten
Stella Dallas
Super Reviewer
He Ran All the Way Quotes
There are no approved quotes yet for this movie.