He Was a Quiet Man
(2007)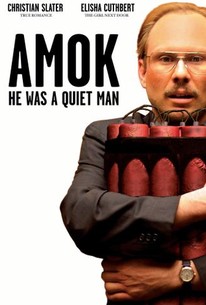 He Was a Quiet Man Photos
Movie Info
Bob Maconel is about to have a bad day. Another eight hours of sitting in a dull gray cubicle, ignored by his co-workers, existing in a world where he feels completely out of sync. On this particularly bad day, Bob crosses the line from potential killer to inadvertent hero and in the process saves Venessa's life. This invisible nobody saves the object of his desire only to have her ask him to end her life.
Critic Reviews for He Was a Quiet Man
Audience Reviews for He Was a Quiet Man
½
Bob Maconel: There comes a time when the diseased and the weak must be sacrificed to save the herd. "A daily routine that changes from one moment to another." He Was a Quiet Man is a hard movie to describe. It's part black comedy, part romance, part drama, and part something else that can't really be summed up in words. It's not a movie for everyone, but there's definitely a sizeable audience for a film like this and fortunately for me; I fell into that sizeable audience. A man, Bob Maconel, works in a cubicle at a large office building. Bob isn't what you'd call the most popular guy in the office. He's awkward and quiet, and emotionally, there's not too much more he can take. He's largely ignored by his co-workers and when they do acknowledge him, it's a bullying sort of way. Bob carries a gun with him to work, as he fantasizes about offing some of his co-workers. One day as he lays on the floor of his cubicle, trying to pick up a bullet he dropped; he hears gunfire and sees bodies drop. Another worker has snapped before Bob did, and Bob ends up the hero after he shoots the man and saves a woman in the office. Christian Slater is absolutely perfect for this role and does a great job. I recommend this one to people who like dark drama films and even dark comedies. Just know going in that this isn't really much of a comedy. There's little that seems funny through the character that Slater plays. That being said, this is still a very good movie.
Melvin White
Super Reviewer
½
A very interesting film that wouldn't have worked as well with anyone else leading it other then Christian Slater who really digs deep to give what is probably his most serious performance as a office employee who wants to shoot up his co-workers but is beaten to it by a fellow member of staff. Like I said earlier Slater is extremely intense and the film is so much better for it, some of the symbolism seemed slightly overdone but in the end this is an extremely interesting piece of work that wil probably find its way into my collection for Christian Slater's performance alone.
Cameron Sherwell
Super Reviewer
Good movie. I actually did not recognise Christian Slater here - definitely not a glamour role for him, playing a downtrodden, henpecked office employee who is near to flipping, when someone beats him to it... There was a lot to like here. Elisha Cuthbert was the best I have ever seen her. She plays the attractive co-worker that Christian Slater's Bob has always admired from afar, and they become friends when she is shot by someone else, and paralysed. The ending is a little open ended, so not everyone will get it - I know for me, I had to do a little online research to see what others thought, though I won't reveal it here and ruin it for anyone. (Or maybe I am just a little slow to register!). I enjoyed this movie. It stayed interesting all the way through. The talking fish was also a nice touch and an indication of how far removed from reality Bob had become!
Nicki Marie
Super Reviewer
He Was a Quiet Man Quotes
| | |
| --- | --- |
| Bob Maconel: | There comes a time when the diseased and the weak must be sacrificed in order to save the herd. |
| | |
| --- | --- |
| Bob Maconel: | As the fish: The bitch lied. |
| | |
| --- | --- |
| Scott Harper: | Forget golf on Sunday you f**king freak |
| Scott Harper: | Forget golf on Sunday you f**king freak. |
| | |
| --- | --- |
| Paula: | I'd be more than honored if you wanted to look inside my blouse. |