Head of State
(2003)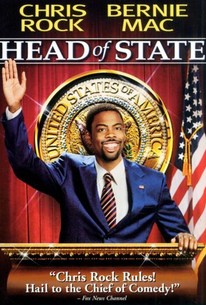 Movie Info
Mays Gilliam, a Washington D.C. neighborhood Alderman, is about to be redlined out of his job. But after the untimely death of the party frontrunner, Gilliam is plucked from obscurity, and thrust into the limelight as his party's nominee--for President of the United States. The players in Gilliam's life include: Mitch Gilliam, his unsophisticated older brother who becomes his running mate; Kim, his ex-girlfriend who had once dumped him, but who now has a sudden change of heart as she sees a chance at becoming First Lady; Martin Geller, his campaign manager; Lisa Clark, the woman who truly believes in Gilliam; and Debra Lassiter, the woman who doesn't have faith in his candidacy, and is serving as his reluctant advisor.
News & Interviews for Head of State
Critic Reviews for Head of State
Audience Reviews for Head of State
This is a very funny satire of our political system and of black culture with the general premise being a black man is chosen to run for president by a white establishment that assumes he'll lose. Chris Rock plays Mays Gilliam, an alderman who finds himself running for President of The United States after the original presidential candidate dies in a plane crash two months before the election. Obviously, he is being set up to lose, but (of course) begins winning over the people and ultimately taking control of his fixed campaign with his street smart unorthodox methods. Bernie Mac plays Alderman's bail bondsman brother turned vice president running mate providing laughter with his rough and rumble ways. Robin Givens plays Gilliam's stalker ex-girlfriend.
Foreshadowing. Most Chris Rock-lead movies are terrible, this one is his best.
Lenny Muggsy
Super Reviewer
I'm so glad the studios ended up trusting Chris Rock to direct a movie. Man, he should run for President. Although he crosses the surrealism line a little too often for my tastes, this movie was a hilarious indictment of phoniness in American politicians. I have a little souvenir "Crib Malt Liquor" bottle in my room.
Emily Armstrong
Super Reviewer