Head Trauma
(2006)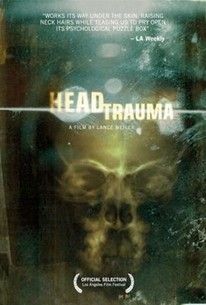 AUDIENCE SCORE
Critic Consensus: No consensus yet.
Movie Info
A troubled man discovers his terrible visions may not all be all in his head in this independent horror story. Emotionally disturbed George (Vince Mola) has been working odd jobs and drifting from city to city for several years when he returns to his home down and moves into an abandoned house that once belonged to his grandmother. George has grand plans of fixing up the house, but it has already been condemned, and neighbors Chester (Jim Sullivan) and Julian (Jamil Mangan) are wary of him. As George sets up his tent inside the old house, he begins to discover curious things that suggest something terrible has happened there, and he wonders if it all ties in to a shocking murder he witnessed as a child. Soon George is being terrorized by a shadowy figure in a snorkel parka, and strange things begin happening as the basement fills with water. Written and directed by Lance Weiler, who created the ultra-low-budget cult phenomenon The Last Broadcast, Head Trauma was screened as part of the 2006 Los Angeles Film Festival.
Critic Reviews for Head Trauma
All Critics (2) | Fresh (2) | Rotten (0) | DVD (2)
Like the films of Polanski and Nicolas Roeg, "Head Trauma" is a slow burn movie, the kind which gradually pulls you deeper and deeper into its own twisted reality.
May 5, 2008 | Rating: 7/10
Much of the time you're guessing what's real and what's not, but it's not done in such a way that you're lost and confused. Instead there's this creepy vibe that crawls across your skin.
Audience Reviews for Head Trauma
In the classic Cat People, Jacques Tourneur played on our fears by capitalizing on ambiguity, terrorizing audiences with a deadly predator that remains sight unseen. In the legendary Jaws, Steven Spielberg played on our fears by capitalizing on our overactive imaginations, frightening audiences with a deadly predator that remains mostly sight unseen. With the psychological thriller Head Trauma, director Lance Weiler's plays on our fears by giving us a mind-bending Rosharch Test in which the protagonist - and the audience by proxy - spirals into a terrifying dreamstate where reality, like ink-blots, evolves out of what we think is seen. After a 20 year absence, a drifter with a troubled past (Mola), returns home to settle his grandmother's estate, only to find that her house is scheduled for demolition. As he tries to save his legacy from the wrecking ball with the help of some friends (Mangan, Monahan), a series of disturbing nightmares threatens to unravel a deeply repressed secret involving a mysterious young woman (Brandee Sanders). Like Tourneur and Speilberg in the early stage of their careers, Weiler has a limited bag of tricks due to a restrictive budget, but resourcefully uses it well. Having honed his skills well on the cunning shocker The Last Broadcast, he shuffles the base aesthetics and a tricked-out soundtrack into a scary-as-hell narrative that seems almost epic, if only because he is playing with our own skewered perception. The fine cast fires on all cylinders, making the tale all the scarier because they look so terrifyingly, well, normal. Weiler learned well: An audience certainly does not need an airbrushed Sarah Michelle Gellar crawling around in leather pants to signify ultimate terror. Bottom line: Get some Head.
I could be locked in a room for fifty years, with no audio or visual stimulation of any kind, and wake up one morning and see a television playing this movie and I'd still turn it off halfway through.
Christopher Brown
Super Reviewer
Head Trauma Quotes
There are no approved quotes yet for this movie.