Hear No Evil
(1993)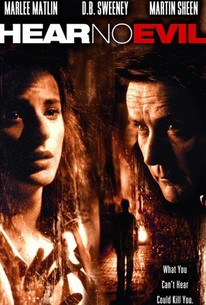 Movie Info
Hear No Evil, while based on the interesting premise of a deaf woman stalked by a relentless killer, is a well-crafted but predictable mystery thriller. Jillian (Marlee Matlin), a physical trainer is unknowingly given a valuable stolen coin. The theft of the coin was planned by a corrupt and sadistic police lieutenant (Martin Sheen) who needs the coin to fund his retirement, and he pursues Jillian in order to get it. Director Robert Greenwald, who also directed The Burning Bed, does a good job in showing the victim's courage and resourcefulness in her desperate situation. Matlin is good as Jillian, and does not use her deafness as a crutch to generate sympathy but portrays Jillian as an independent and strong woman. The plot gets bogged down with too many cliched twists and subplots, including a romance which slows the movie and adds nothing of interest in the development of the characters and their motivations. Hear No Evil, similar in theme to the excellent Wait Until Dark, lacks the focus and intensity necessary in a good thriller and wastes its excellent cast.
Critic Reviews for Hear No Evil
Audience Reviews for Hear No Evil
Magnificent thriller of a deaf athletic trainer who finds herself living a nightmare after a client plants a rare coin on her. The deaf angle gives this thriller a decent edge that I like it so much for my support of deaf culture.
Dean McKenna
Super Reviewer
Hear No Evil Quotes
There are no approved quotes yet for this movie.