Heart and Souls
(1993)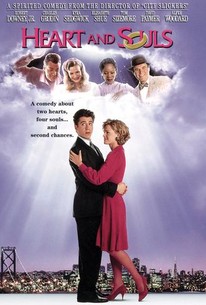 Movie Info
Heart and Souls is an odd reincarnation comedy about a man (Robert Downey Jr.) who has been haunted his entire life by four souls (Charles Grodin, Kyra Sedgewick, Alfre Woodard, Tom Sizemore), who are only visible to himself, and who all died in a bus accident on the night that he was born. Once he becomes a man, he is forced to finish what they could not complete, and each of the four souls inhabits his body at different times as he attempts to take care of their business.
Critic Reviews for Heart and Souls
Audience Reviews for Heart and Souls
Probably the most bizarre normal movie i've ever come in contact with. It has some truly nutty and flat out weird moments, but when you have a ghost premise it all becomes subjective as to what you should expect. Robert Downey Jr. really doesn't get the credit he deserves for his multiple performances. Not only does he play a very great mid-nineties yuppie, but equally convincing interpretations of the four ghosts. His middle aged black lady is my favorite, but sexed up Kyra Sedgwick is almost just as good. The story is totally unique, no other ghost movie really tries to do what this did. It presents the idea of an unfinished life in a way that makes the viewer want to take advantage of the time they have.
Conner Rainwater
Super Reviewer
Robert Downey, Jr. Lyte. A cute but unexceptional offering from the director of Tremors and City Slickers.
Randy Tippy
Super Reviewer
Funny and so moving in the end. Great cast and, did I mention, funny.
Leigh Ryan
Super Reviewer
Heart and Souls Quotes
There are no approved quotes yet for this movie.