Heart of Glass (Herz aus Glas)
(1976)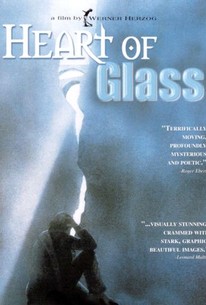 Heart of Glass (Herz aus Glas) Photos
Movie Info
A mesmeric production by Werner Herzog about the power and importance of art. A small town in Bavaria has become particularly famous for its beautiful ruby-colored glasswork. The glassblower responsible dies without revealing to anyone the secret of his trademark. His son tries his best to recreate the formula for the ruby glass, or his town may lose their business. Herzog actually hypnotized the actors before they went in front of the camera, and the performances are, as a result, somewhat peculiar and trancelike.
Critic Reviews for Heart of Glass (Herz aus Glas)
Audience Reviews for Heart of Glass (Herz aus Glas)
½
While atmospheric, "Heart of Glass" does not really feel like any other Werner Herzog movie I have seen. But it still feels like it is suited for his voice, down to the prolonged prologue. This might explain why as unfocused as the movie is at times, it is still worth watching. It's the end of the world, not as we know it, but as Hias(Josef Bierbichler) has foreseen it from 18th century Germany, along with the World Wars of the twentieth century. He also says there are no such things as giants which means he might be a Dodgers fan. The foreman at a glass factory has died. Ordinarily this would be no big deal, right? Except, he was the only one who knew the secret formula for the town's renowned ruby glass and that secret has apparently died with him.(Due to the symbolically crimson color of the glass, it is no surprise it is the lifeblood of the community.) This leads to the fabric of the town being rent asunder, with formerly friendly workers at each other's throats. Next thing you know, cats and dogs will be intermingling... And then there is the end of the world in the slightly perplexing epilogue.
½
A small village is renowned for its "Ruby Glass" glass blowing works. When the foreman of the works dies suddenly without revealing the secret of the Ruby Glass, the town slides into a deep depression, and the owner of the glassworks becomes obssessed with the lost secret.
Never mind the first ten minutes of this film, which have the look and feel (but none of th e charm) of a 1970's grade school film. And never mind the fact that the story is at times annoyingly disjunctive and painfully self indulgent. I found myself (like the actors) hypnotized and slightly dazed into participation. Part of me felt slightly annoyed by the film, while another part of me was oddly intrigued and mildly impressed by the abstract and surreal feel of it all. Not for everyone. But fans of Ingmar Bergman and David Lynch will probably appreciate the film, if not the story itself.
Heart of Glass (Herz aus Glas) Quotes
There are no approved quotes yet for this movie.