Hearts in Atlantis
(2001)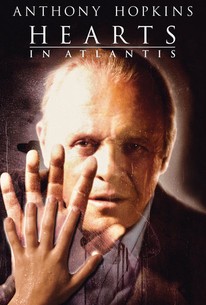 Hearts in Atlantis Photos
Movie Info
One of the short stories in a best-selling collection by author Stephen King becomes this mystery adapted for director Scott Hicks by screenwriter William Goldman, who previously transformed a King story into a box-office hit (Misery, 1990). In the summer of 1960, young Bobby Garfield (Anton Yelchin) is sharing adventures with his best friends Carol (Mika Boorem) and Sully (Will Rothhaar) when an enigmatic lodger named Ted Brautigan (Anthony Hopkins) rents a room in his family's boarding house. Bobby's self-absorbed, widowed mother Liz (Hope Davis) couldn't care less about her son, so Bobby, who is being tormented by local bullies, quickly befriends the otherworldly Ted, becoming his confidante, and reading the paper to him to save the aging man's failing eyesight. Soon, Bobby learns that Ted possesses supernatural gifts, has a haunted past, and is being pursued by sinister men whose intentions are unclear. Hearts in Atlantis co-stars David Morse, who appeared in the previous King adaptation The Green Mile (1999), as the adult Bobby.
Critic Reviews for Hearts in Atlantis
Audience Reviews for Hearts in Atlantis
Another surprise story from Stephen King! So many things about the boy's Mom upsets me. Even though "bogiemen" are the obvious villains, I find the Mom the real villain.
Thomas Johnston
Super Reviewer
½
I'm always apprehensive when it comes to one of King's adaptations. King's books are rich and complex narratives, and much of that is lost in the transition to the screen. Hearts in Atlantis, however, was a decent adaptation. The book is a spin-off of the Dark Tower series, but is a decent stand-alone book (I read it before the Dark Tower series and really enjoyed it). The book tells three intertwined stories, and the movie really only focuses on one of them. The main thing I noticed that may detract from the film, is that it never really explains anything. Therefore, I think the film makes a good companion piece to the book, but people who haven't read the book may be left feeling confused and unfulfilled.
½
Most of Stephen King's books involve the supernatural somehow. After a while, that gets to me - our world is not a world where much is supernatural. But in some of Stephen King's stories, I don't mind the supernatural aspects - stories like The Green Mile, and this one. Ted (very well played by Anthony Hopkins) comes into Bobby's life and provides a needed father figure. He guides Bobby through the best summer of his youth.
Hearts in Atlantis Quotes
There are no approved quotes yet for this movie.