Heaven
(2002)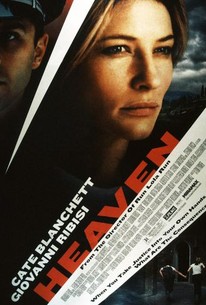 Movie Info
Philippa, a British teacher living in Turin, Italy, has seen many friends, including her husband, fall victim to drug overdoses. Philippa has repeatedly contacted the police with information about Turin's biggest drug dealer but, complicit in his dealings, they have completely ignored her. So Philippa decides to dole out her own form of justice -- setting her off on a journey, aided unexpectedly by a young police officer, that moves through retribution and redemption, innocence and crime, and hope and desire as she goes from a young widow to a fugitive on the run.
Critic Reviews for Heaven
Audience Reviews for Heaven
½
Philippa: I don't want to escape punishment. I've killed four innocent people and I want to answer for that, but before I do, I want to kill him. "What Would You Risk For Love?" Heaven is a tough film to figure out for me. It's unique for sure, with major events happening at times you wouldn't expect them to. I never was able to fall in love with it, although I did thoroughly enjoy the whole film. It's wonderfully shot, the score is fantastic, and Cate Blanchett and Giovanni Ribisi are bother terrific.  A woman, Philippa, is a teacher living in Italy who recently lost her husband to a drug overdose. She gets fed up with law enforcement's lack of care her information about the drug dealer whose pushing large amount of drugs. So she decides to kill him. She tries to kill him with a bomb, but things don't go as planned and four innocent people die, while the drug kingpin still lives. To complicate things more, she is detained for the bombing.  This isn't a movie that really appeals to me too much, but I was able to find  quite a bit I liked and was able to take away from the film. I don't believe this to be a masterpiece or anything like that, but it is worth a viewing. If only for Care Blanchett, it deserves a look. 
Melvin White
Super Reviewer
½
Philippa is in a hopeless situation. The drug dealers who have supplied drugs to her husband and students are supported by the Italian police who are questioning her. All seems lost until an young innocent translator helps her accomplish her goal.
Cast: Cate Blanchett, Giovanni Ribisi, Remo Girone, Stefania Rocca, Alessandro Sperduti, Mattia Sbragia, Stefano Santospago, Alberto Di Stasio, Giovanni Vettorazzo, Gianfranco Barra, Mauro Marino Director: Tom Tykwer Summary: Deeply disappointed by law enforcement's lax investigation following her husband's drug-related death, Philippa Paccard (Cate Blanchett) takes the law into her own hands and ends up imprisoned in this moody romantic drama from director Tom Tykwer (Run Lola Run). Filippo (Giovanni Ribisi), a police officer involved with Philippa's questioning, falls in love with her and helps her escape, as they flee together to the Tuscan countryside. My Thoughts: "The film has a beautiful back drop. The concept was interesting but failed to succeed in delivering a great thriller. Since there is little character development, you don't develop enough emotions for these character's to really care what happens. I wasn't convinced of the romance between Philppa and Flippo. I didn't see the right kind of chemistry brewing for them to make me believe they could be in love. When Flippo's father asks Philippa if she loves his son, I was so certain she would say no. But besides the lack of chemistry, there was a lack of action. I get the quiet thriller aspect of it, but there could have been a little bit more going on to keep the interest. It's a slow burning, but visually beautiful thriller that some will have the patience for where other's will try to stay awake to finish it. But as usual, Cate and Giovanni give stellar performances."
♥˩ƳИИ ƜѲѲƉƧ♥
Super Reviewer
Heaven Quotes
There are no approved quotes yet for this movie.