Heaven Can Wait
(1943)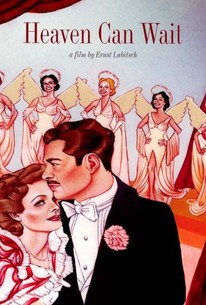 Movie Info
On the day of his death in 1943, the spirit of Henry Van Cleave (Don Ameche) obligingly heads for the place where so many people had previously told him to go. The immaculately dressed septuagenarian arrives at the outer offices of Hades, where he is greeted by His Excellency (Laird Cregar), the most courteous and gentlemanly Satan in screen history. His Excellency doubts that Van Cleave has sinned enough to qualify for entrance into Hades, but Henry insists that he's led the most wicked of lives, and proceeds to tell his story. Each milestone of Henry's life, it seems, has occurred on one of his birthdays. Upon reaching 15, Henry (played as a teenager by Dickie Moore) naively permits himself to get drunk with and be seduced by his family's French maid (Signe Hasso). At 21, Henry elopes with lovely Martha Strabel (Gene Tierney) stealing her away from her stuffy fiance Albert Van Cleve (Allyn Joslyn), Henry's cousin. At 31, Henry nearly loses Martha when, weary of his harmless extracurricular flirtations, she goes home to her boorish parents (Eugene Pallette and Marjorie Main). Henry's grandpa (Charles Coburn) orders the errant husband not to let so wonderful a girl as Martha get away from him. Henry once more declares his love to Martha, and she can't help but be touched by his boyish sincerity. Twenty years later, Henry, now a faithful and proper husband and father, attempts to charm a beautiful musical-comedy entertainer (Helen Walker) so that she'll forsake his young and impressionable son. But Henry's gay-90s romantic approach is out of touch with the Roaring 20s, and he ends up paying the entertainer a tidy sum to rescue his son--a fact that amuses Henry's understanding wife Martha, who now knows that her husband is hers and hers alone. Ten more years pass: Henry dances a last waltz with Martha, whose loving smile hides the fact that she knows she hasn't much longer to live. Five years later, it is "foxy grandpa" Henry who must be kept in check by his conservative son Jack (Michael Ames). Finally, it is 1943: as he quietly drinks in the loveliness of his night nurse (Doris Merrick), the bedridden Henry contentedly breathes his last. His story told, Henry once again asks to be permitted to enter Hades. But His Excellency, realizing that the only "sin" Henry has truly committed is attempting to live life to the fullest, quietly replies "If you'll forgive me, Mr. Van Cleave, we just don't want your kind down here." While he allows that Henry may have some trouble getting past the Pearly Gates, the wait will be worth it, since his loving wife Martha will be waiting for him. His Excellency cordially escorts Henry to the elevator, giving the operator a one-word instruction: "Up." A charming delight from first frame to last, Heaven Can Wait is another winner from director Ernst Lubitsch, and his first in Technicolor. Samson Raphaelson's screenplay was based on +Birthdays, a play by Laslo Bus-Fekete.
Critic Reviews for Heaven Can Wait
Audience Reviews for Heaven Can Wait
Not the predecessor of the Warren Beatty vehicle of the seventies, Heaven Can Wait is a sweet comedy that follows the life of philandering playboy Henry Van Cleve, as he drifts through the phases of his life, narrating along the way. There are certainly parts that are either aged by the particular brand of humor, and others that are plain tiresome, but when the film deals with the early years of Henry's life it's all too angelic to watch. There is some very dark humor as well, especially concerning the devil's role in the film, which is less of a creepy creature and more of a slick businessman talking over a merger. As the film follows the personal timeline of Ameche, his ease and charm filter through every bit of his performance. We never truly grasp the sentimentality of his relationships with his parents, wife, or son, but all the constructs are present, and therefore the performance comes through as a genuine article. Still, Ameche's transformation from elegant Casanova to settled bumpkin is unsettling and the subsequent storyline concerning his son's reputation is both unnecessary and uninspired. Gene Tierney manages to reclaim much of the spotlight as an aged wife to Ameche, pulling focus with her gleaming sapphire eyes and empire waist. Though their chemistry is subtle, it's also very tender. When speaking about her to Satan, Henry has left his ways and is now a morose old man, hoping for a second chance and a good natured heart to guide him back to his wife. Touching overall.
Spencer S.
Super Reviewer
Don Ameche is subtle but superb as Henry Van Cleve, the trust-fund Casanova who feels compelled to recount his life story to Satan at the gates of hell.
Randy Tippy
Super Reviewer
The original Heaven Can Wait. If you've seen the remakes, I recommend taking a look at this one.
Heaven Can Wait Quotes
There are no approved quotes yet for this movie.