Heaven Is for Real
(2014)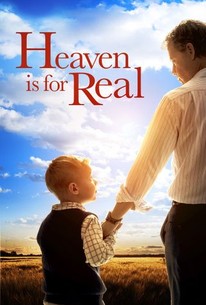 TOMATOMETER
AUDIENCE SCORE
Critic Consensus: Heaven Is for Real boasts a well-written screenplay and a talented cast, but overextends itself with heavy-handed sequences depicting concepts it could have trusted the audience to take on faith.
Heaven Is for Real Photos
Movie Info
Based on the #1 New York Times best-selling book of the same name, HEAVEN IS FOR REAL brings to the screen the true story of a small-town father who must find the courage and conviction to share his son's extraordinary, life-changing experience with the world. The film stars Academy Award (R) nominee and Emmy (R) award winning actor Greg Kinnear as Todd Burpo and co-stars Kelly Reilly as Sonja Burpo, the real-life couple whose son Colton (newcomer Connor Corum) claims to have visited Heaven during a near death experience. Colton recounts the details of his amazing journey with childlike innocence and speaks matter-of-factly about things that happened before his birth ... things he couldn't possibly know. Todd and his family are then challenged to examine the meaning from this remarkable event. (c) Sony
News & Interviews for Heaven Is for Real
Critic Reviews for Heaven Is for Real
Audience Reviews for Heaven Is for Real
"Heaven is for Real" is based on a book about a boy who tells his Dad about his experience in heaven while he is being operated on. The movie asks a very interesting question. If you knew heaven was real, like had proof, would it scare you? I think that's fascinating, and unfortunately, a lot more fascinating than the movie. This movie was very flat for me, and borderline boring. I don't mind faith based movies at all, but a movie is meant for entertainment. This just seemed to go nowhere, and probably much better suited as a book than a film. The acting was decent at best. I hate to criticize a child actor, but the boy in this movie is not very good at all. He comes off as really awkward and uncomfortable with zero charisma. Again, I feel bad for saying that, but it's true. Had a different child actor been in that role, this may have been much better. Disappointing for me, however, quite a few Christians that I know, Loved this movie. Good for them, and I'm glad this works for it's target audience. So, if you're into these types of movies, check it out. Otherwise, I'd say just read the book.
Everett Johnson
Super Reviewer
What's wrong with preaching to the choir? A pastor and his family try to accept that their youngest member might've had a spiritual experience. The foundation for this film is the depiction of middle American lifestyles and Kinnear's performance as a preacher in difficult straits. There are no surprises here and everything plays out pretty much as you'd expect and therein is the flaw of the piece ... they needed to present a surprising twist somewhere here to overcome their own obviousness. Still worthwhile, particularly for choir members.
Kevin M. Williams
Super Reviewer
½
Christian movies have been lighting up the U.S. box-office this year. First there was Son of God, which opened at over $30 million dollars for what is essentially a retread of what people could see for free on TV. Then there was Noah, the Biblical epic given a new life with modern special effects magic. Then the little indie that could, God's Not Dead, which continues to hang around the box-office, collecting astonishing sums. Now in time for Easter is Heaven is For Real based upon the best-selling book of the same name. Adapted and directed by Randall Wallace (Secretariat, Braveheart), the film manages to be emotional, earnest, and efficient, even despite not really having the elements needed to be called a film. Todd Burpo (Greg Kinnear) is the pastor for a small town in rural Nebraska. He and his wife Sonja (Kelly Reilly) are struggling to pay the bills and care for their two children, Cassie (Lane Styles) and Colton (Connor Corum). One fateful day, Colton is rushed to the hospital with a burst appendix. He makes it through the operation. Afterwards, he tells his family the amazing news that while unconscious he visited heaven. The Burpos are ready to dismiss their son's experience as a response common to those who went through near-death experiences, except little Colton never died on the operating table. Todd is unsure what to do with his son's information, including key knowledge that he has no Earthly way of knowing. The members of Todd's church worry about trusting the child's account, and are wary of the media circus, and may just hire a new pastor for all the trouble caused by Colton's confession. Kinder and gentler, here is a movie that has an inclusive, positive message executed with earnest conviction. The drama isn't subtle but it can be effective. The music rises, the actors crinkle their faces and get tears in their eyes, and you're left feeling like there's something in your own eye. It may be manipulative in some sense but it's so well executed, and without any hint of pretension or agenda, that I really didn't mind. It's a heartfelt movie that could fervently inspire the masses that pack the theater. I'd much rather have any Christian consumers, or the curious, check out this well-meaning movie than the mean-spirited and spurious God's Not Dead. This movie actually allows its characters to feel like regular people who exist in our world. Todd and Sonja have a sex life, and the Burpo family doesn't just sing famous Christian tunes in the car, they'll shout Queen at the top of their lungs. In other words, they're a fairly normal Midwestern family, and I appreciated that the movie didn't feel the need to sanctify them. The supporting characters also have dollops of depth to them, at least in the hands of actors like Thomas Haden Church (so wonderfully deadpan) and Margo Martindale (her sorrow fermenting into bitterness). Heaven is for Real is anchored by two strong performances by Kinnear (The Last Song) and Reilly (Flight) as the parents. Both of these actors get a wealth of emotions to play, a few crying scenes, one angry outburst, and they sell it all, never overplaying the emotions of the scene, gently grounding the film with compassion. I suppose in some capacity this film could be the more religious version of The Sixth Sense. It's about a gifted child who sees things others cannot and who battles with being taken seriously by the scolding adults. We know that he's going to say something he should not know, the adults would gasp and say, "How did you know that? There's no possible way," and then we'll repeat this process. It reminded me of when young Haley Joel Osment finally gets through to his mother when he tells her that grandma saw her dance and is proud of her. Just add a dash of non-denominational Christianity. The problem is that there really isn't a movie here. Heaven is For Real is comforting and earnest, but there just isn't a story here that translates into the structure and form of a film, and it shows. First off, there really isn't much in the way of authentic conflict here. After Colton is saved, the only real conflict is whether to believe what he experienced. This setup could work in the scheme of a movie if his parents were not believers; thus their arc is one that goes from disbelief to belief. However, the movie already begins with the Burpos as good Christian folk. Todd is the town's pastor for crying out loud, so you'd think he wouldn't be troubled with his own set of doubts. These are also rather good people. In the opening scenes, despite being behind on bills, Todd refuses to charge someone for his garage-repair services and accepts free carpet instead. In the end, when Todd is preaching and talking about his own journey and how prideful he was back at the start, I'm left wondering what he's talking about. I suppose he didn't have to try and run to third base in that church softball game, but is that really all we have to go on? Would staying on second symbolize his lack of faith? What I'm saying is that the Burpos don't really travel on a character arc, so their squabbles over their son feel forced. More so, the struggles with Todd's church feel the most inauthentic. I just don't get it. The pastor's kid says he went to heaven, and the congregation has members that are mad, but mad at what? Should the pastor, who preaches about heaven for a living, dispute his son, especially when the boy possesses extraordinary knowledge? I don't understand what the conflict is here and neither does the movie, which doesn't really adhere to a three-act structure, and just sort of ends without much preparation. People just believe. End. Why did it take this long? It's not like these people are stone-cold atheists. It's that lacking sense of urgency, let alone goals or a central through line, which makes me question how Heaven is For Real spends its time. Why does the movie choose to spend as much time on scenes that don't seem to matter? The first act is spent with such dramatic moments as... Todd playing softball and breaking his leg (the one thing that pushes the film into PG material). And from that... a completely unrelated kidney stone infection. Then from there... the family takes a trip to the Denver zoo. I was getting restless myself that this kid was never going to get to heaven. I kept waiting for these moments to have consequence, like how the Burpo kids fall ill after visiting the zoo. Aha, it must be connected to the zoo (monkey pox!). Nope, it's his appendix rupturing. Very little of the pre-heavenly visit looks to have any bearing on the overall plot, instead providing texture to the family life. I suppose Todd passing the kidney stones was meant to be a comedic excursion (Jay says the average is passing 15 stones - that is too insane for me to believe at face value). Why kind of hours does Todd have for his family when he's a minister, a full-time job, repairs garage doors as a second job, then volunteers as a firefighter AND coaches a high school wrestling team? He's got way too much on his plate but objects to the idea of his wife getting a job. What purpose does Todd seeing a psychiatrist on short notice serve other than allowing an externalization of his internal doubts? I'll let that one slide, but they never come back to the psychiatrist. Too much of the movie feels like padding and stalling until the non-conflict reaches its end. Wallace also shows a lack of faith in his own audience. By choosing to visualize the heavenly sequences, though brief they are, the movie risks being goofy, as whatever man can derive will never be comparable. If the whole movie is about whether or not to accept Colton's story on faith, why do we have to have dramatizations of his story? Isn't that cheating? The heavenly sequences don't really add much oomph to the story any way. Colton goes to church, watches vaguely humanoid angels bathed in light hover and sing. He asks them to play "We Will Rock You." The angels laugh but they don't play the classic Queen rock song/universal sports anthem. Is it a matter of taste, angels? Who doesn't like Queen? Then Jesus shows up and walks Colton outside. Other than a visual glimpse of Colton hugging his dead sister, that's it. The other issue with depicting heaven onscreen, or something close to it, is that we can start picking it apart. Just ask Peter Jackson and his miscalculated Lovely Bones. If everyone is young in heaven, as Colton observes, then do we get a say in what our prime age is? I personally think George Clooney is a more handsome man as he ages than back in his E.R. days. And why does Jesus have to dress in the standard robes and sandals of 2000 years ago? Couldn't he wear something more casual? Just imagine: Jesus relaxing in the pajama jeans. Then there's Colton coming across his departed sister, who died at eight months, but is represented by a 6-8-year-old girl. Does this mean she's going to be like that for eternity? Does she not get to choose to be an adult? See what I mean about picking it apart? Its heart is in the right place, its message is inclusive and positive, and ultimately Heaven is For Real preaches about making life on Earth just as significant as the one after, and so I can say that the film is a relatively inoffensive and effective drama. It isn't enough to say heaven is for real; the movie challenges the audience to do more. It doesn't go overboard into maudlin territory, though it comes close enough with some of the wistful child acting. There really isn't much of a movie here, and some of the choices seem to backfire, but it's saved by its sense of earnestness, compassion, and some above average acting. Amidst the glut of evangelical movies this spring, I'd recommend Heaven is For Real above the rest (I'm excluding Noah from this list). It's a thoroughly nice movie, and a film that should inspire its core audience, but in a good way, unlike God's Not Dead. I can't exactly say that this is a movie that needed to be made, especially from the cut-and-dry source material, but there's a level of skepticism and reality imposed on what could easily be transformed into a blunt outreach piece. Even though the outcome is never in doubt, there's an intelligence to the craft here that is much appreciated. Heaven is For Real may not be a great movie, but it works well enough as a movie when it shouldn't, and that's enough of a success in my book. Nate's Grade: B-
Nate Zoebl
Super Reviewer
Heaven Is for Real Quotes
| | |
| --- | --- |
| Dr. Charlotte Slater: | He had a near-death experience. |
| | |
| --- | --- |
| Colton Burpo: | Jesus rides a rainbow colored horse! |
| | |
| --- | --- |
| Nancy Rawling: | You don't have to save the world, Todd. I believe that's already been done. |
| | |
| --- | --- |
| Todd Burpo: | God crushed my pride and opened my heart to love and I have to do. The one thing love requires is to let others know they are not alone. |