Heavenly Creatures
(1994)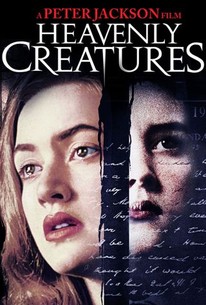 TOMATOMETER
AUDIENCE SCORE
Critic Consensus: Dark, stylish, and captivating, Heavenly Creatures signals both the auspicious debut of Kate Winslet and the arrival of Peter Jackson as more than just a cult director.
Movie Info
After winning a cult following for several offbeat and darkly witty gore films, New Zealand director Peter Jackson abruptly shifted gears with this stylish, compelling, and ultimately disturbing tale of two teenage girls whose friendship begins to fuel an ultimately fatal obsession. Pauline (Melanie Lynskey) is a student in New Zealand who doesn't much care for her family or her classmates; she's a bit overweight and not especially gracious, but she quickly makes friends with Juliet (Kate Winslet), a pretty girl whose wealthy parents have relocated from England. Pauline and Juliet find they share the same tastes in art, literature, and music (especially the vocal stylings of Mario Lanza), and together they begin to construct an elaborate fantasy world named Borovnia, which exists first in stories and then in models made of clay. The more Pauline and Juliet dream of Borovnia, the more the two find themselves retreating into this fantastical world of art, adventure, and Gothic romance as they slowly drift away from reality. The girls' parents decide that perhaps they're spending too much time together, and try to bring them back into the real world, but this only feeds their continued obsession with Borovnia (and each other) and leads to a desperate and violent bid for freedom. Featuring excellent performances (especially by Kate Winslet) and imaginative production design and special effects, Heavenly Creatures skillfully allows the audience to see Pauline and Juliet both from their own fantastic perspective and how they seem to the rest of the world. Remarkably enough, Heavenly Creatures is based on a true story; in real life, Juliet grew up to become mystery novelist Anne Perry. ~ Mark Deming, Rovi
News & Interviews for Heavenly Creatures
Critic Reviews for Heavenly Creatures
Audience Reviews for Heavenly Creatures
This disturbing take on a set of real events comes to life from director Peter Jackson, at the time the master of horror-comedy. Set and filmed in New Zealand and starring newcomers Kate Winslet and Melanie Lynskey, the film propelled the former into stardom and started a fast track for the other to become a character actress. The story is one of a deep connection, a flawed outlook on life, a friendship that shifts with their sick lives, and the murderous intent of two girls who have drove themselves into the depths of madness. Based on the true story of the Parker-Hulme murder of two teenage girls killing one of their mothers so they could stay together in a fantastical imagination land that the two of them built, it exacts a macabre and cruel vengeance over the viewer. Fusing Claymation, horror, and the inner follies of the two girls over their partnership and eventual murder plans, Jackson uses voice over narration from Parker's own diary to infuse bitter resentment throughout the film. Winslet is a bright star in her own right, her true debut and the propellant to her eventual fame. Here she is carefree, enigmatic, and obviously disturbed as a power hungry vigilante in her dreams. Lynskey is dark and the epitome of brooding, as she time and again is taken away from the object of her desire: Hulme. She fights with her mother, and obviously is getting ready to do the mischievous deed. This differs from many biopics because it's far more centered on the buildup to infamy than the aftermath. Their relationship is so steeped in exclusivity and demonic insight into their madness and the co-dependence that led to their irresponsible and juvenile decision to flee the country for famedom and be together forever. It's a beautiful and inviting film, even if you want to rescind it immediately.
Spencer S.
Super Reviewer
½
From the first scenes, showing 2 young teen girls running through a forest as the camera alternates between a 3rd person view of the girls to following them crashing through the brush, and then juxtaposing the action with a black and white visage of the same girls running along the deck of a ship, Peter Jackson gives notice that this is his picture and he is in full command of what you will bear witness to and how he chooses to present it. Based on a true story of two teens, the story (in a script co-penned by Jackson) uses actual passages of one of the girl's diary, making the events surreal and real at the same time. Jackson lets you enter into the lives and thoughts of these two bright, but seemingly broken girls, full of romantic adolescence while still looking at real life straight on. The camera gives perspective, with surprises of extreme close ups mixed with a million camera angles - letting you know that there is art behind the telling of this only slightly interesting story that occasionally straddles the line of melodrama. In fact, I felt that it was Jackson's art lifted the film from the mid morass of teen films into something much more profound; offering flights of fancy, both in film technique and in the fantasy world that the two girls create. Jackson smartly used film techniques true to the period in which the action takes place, giving us an oft times off putting glimpse into the mores of 1950's New Zealand (which so much echo the sentiments of England and the US of the day). In using scenes from Orson Welles' The Third Man, he cements the relationship between his own film and those films and techniques of the period, while using the girl's fascination with Mario Lanza (the great tenor of that period), to equally good use. Of course, for the film buffs, this film also has the added attraction of being the film that introduces the world to the acting chops of Kate Winslett, who, as one of the 14 year old girls, gives a gifted performance, even while playing second fiddle to the always brooding Melanie Lynskey. The film fails to achieve true greatness as it meanders and loses focus a bit in the last third of the film, but then, with the conclusion and a review of the opening scenes, you see how it all ties together and that Jackson had a wonderful vision for the film going in, making this so much more than a story of a murder, but a fine character study that aptly delves into the psyche of adolescent young women.
paul sandberg
Super Reviewer
After making a few crazy and awesome splatstick horror comedies, Peter Jackson went into dramatic territory with this movie based on the true story of one of the most infamous crimes in New Zealand history. Set in Christchurch, New Zealand in 1953 and 1954, this is the story of Paulina Parker and Juliet Hulme, two offbeat teen schoolgirls who don't really fit in with anyone but each other. Their friendship starts off innocently enough, but their connection soon becomes a little too intense, and their attachment to one another, and the shared fantasy world that they create for themselves begins to take hold, sometimes overriding reality, and this becomes a cause for concern that soon leads to shocking and tragic ends. This is a prestige picture, and, while it mostly is based in reality, there are bits of fantasy, yet they are blended into everything else in such a way that they don't stick out, and really feel pretty natural in the overall scheme of things, much like how things are in The King of Comedy. This is a wonderfully gripping, haunting, and sometimes rather creepy coming-of-age thriller story. I don't feel like it is a full on masterpiece as some do, but I do think it is very well played, extremely compelling and attention holding. The direction is really sharp, and there's some great visual effects that are very well played. The script is pretty solid, though not quite razor level. The true highlight would definitely be the acting, where we get the film debuts of both Kate Winslet and Melanie Lynskey, both of whom absolutely knock it out of the park and deliver some brilliant work. They are both intense, smoldering, and display an amazing flair for the craft, which is really more amazing since this is their feature debuts. When the shat hits the fan, and things get real, they get quite chilling, and the results are thoroughly unforgettable. The wide angle lens closeups of faces does get somewhat overbearing and maybe isn't the most necessary thing in the world, but thankfully its not distracting enough to warrant docking it too many points. Overall this is a quite strong film, and I would love it if Jackson went back and made a few more films in this ilk. Definitely give this one a look. It's some spectacular stuff.
Chris Weber
Super Reviewer
Heavenly Creatures Quotes
| | |
| --- | --- |
| Pauline Parker: | We have realized why Deborah and I have such extraordinary telepathy and why people treat us and look at us the way they do. It is because we are mad! We are both stark raving mad! |
| | |
| --- | --- |
| Henry Hulme: | It's the intensity of the friendship that concerns me. I think that we should avert trouble. |
| | |
| --- | --- |
| Pauline Parker: | The genius of these two is understood by so few, the are so rare. |
| | |
| --- | --- |
| Honora Parker: | We decided how sad it is for other people that they can't appreciate our genius. |