Heavens Above!
(1963)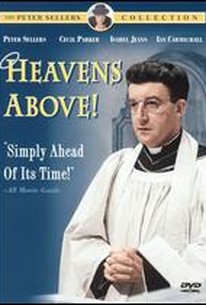 AUDIENCE SCORE
Critic Consensus: No consensus yet.
Movie Info
This satirical comedy takes aim at the sacred cow of organized religion, which is thoroughly and gleefully gored. Reverend Smallwood (Peter Sellers) is the fundamentalist minister assigned by mistake to a wealthy parish. He shocks the congregation when he gives charity and shelter to wandering gypsies, appoints a black man as his assistant, and converts the Lady Despard into his spiritual flock of followers. The Despard family holds the Tranquilax medicine fortunes, and the stockholders revolt when Lady Despard donates a mansion to house some skid row bums. The Reverend's activities cause a ripple affect throughout the community, and the country's economy is jeopardized by plummeting Tranquil stock prices. When the townsfolk are on the verge of running the Rev out of town, the Church and State appoint him Bishop of Outer Space.
Critic Reviews for Heavens Above!
All Critics (3) | Fresh (1) | Rotten (2) | DVD (1)
By now [Peter Sellers] has spread his talent so thin in so many films that he seems unable to keep his characterizations separate. Furthermore, the satire is heavy-handed and illogical.
Way off target as a satire, the Boultings' latest effort is remarkable chiefly for the amount of schoolboy smut it manages to incorporate, and for the nastiness of its view of people.
Audience Reviews for Heavens Above!
½
Unjustly obscure, "Heavens Above!" is among Peter Sellers' essential movies. But beware, fans of droll British satire: You'll have to forgive an absurd ending which taints the entire film. Sellers plays Rev. John Smallwood, a guileless prison chaplain who, by mistake, is summoned to the small community of Orbiston Parva. The town's revenue depends on a factory that produces Tranquilax, a dubious remedy that is a sedative, stimulant and laxative all at once. A perverse comparison is drawn between this "three in one" panacea and the Holy Trinity. It's unclear whether Smallwood is a righteous thinker or just a simpleton who lucked into a virtuous path (shades of "Being There"'s Chance Gardener). But his gentle admonitions shock a hypocritical population accustomed to lazy, unearned feelings of godliness. Most residents are furious and call for his dismissal, but he does reach the matriarch of the town's wealthy, dominant family. Fearing damnation, she begins an extravagant charity program that frustrates shopkeepers and quickly unbalances the local economy. Meanwhile, passing comments from Smallwood's sermons hurt Tranquilax's credibility and cut into its profits. Can Orbiston Parva survive this disastrous dose of spirituality? "Heavens Above!" takes shots at quite a few targets, from religion to capitalism to class divisions. It's a notably bleak portrait of humanity -- even the poor people are corrupt and ungrateful. There are some nice supporting performances, particularly Brock Peters' turn as a good-hearted garbageman, but Sellers carries the film with a brilliantly understated characterization. Beyond one pratfall into an open grave, he scarcely does anything "funny" in the film and yet "Heavens Above!" is indeed a comedy. It's just too bad that a farcical conclusion wholly violates the film's established, low-key tone.
Eric Broome
Super Reviewer
½
classic charming british satirical comedy with peter sellers as a young vicar trying to bring christian charity to an uptight parish. it makes me smile :)
Stella Dallas
Super Reviewer
Heavens Above! Quotes
There are no approved quotes yet for this movie.