Heaven's Prisoners
(1996)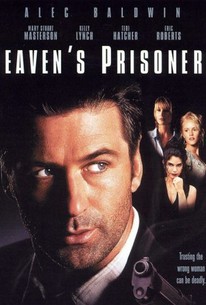 Heaven's Prisoners Photos
Movie Info
In southern Louisiana, ex-cop Robicheaux and his wife witness a plain crash. He rushes to the crash and rescues a little Salvadoran girl. The couple informally adopts the girl, but when he investigates the crash, Robicheaux finds himself caught up in a deadly morass of organized crime.
News & Interviews for Heaven's Prisoners
Critic Reviews for Heaven's Prisoners
Audience Reviews for Heaven's Prisoners
Heaven's Prisoners is a mediocre movie - the kind one expects from the no-name made-in-Canada movies. It has this problem where the bad guys just kill their enemies in cold blood, whereas the hero - even though he is an ex-cop - can only shoot the bad guys in self defence. So the ways the movie deals with eliminating the bad guys can be quite convoluted.
½
Ex-cop and ex-alcoholic Dave Robicheaux (Alec Baldwin) and his wife Annie (Kelly Lynch) move to the Bayou where they open up a bait shop and seem to be living the perfect life. One day while the couple are out on the Bayou a plane crashes nearby their boat. Dave goes in to try and save the passenger's lives. Everyone is dead except for a little girl. The couple takes the young girl back to their place where they plan on raising her but one day Dave gets a visit from DEA officer who informs Dave that the plane crash wasn't an accident but a murder plot, which Dave has messed up. Dave uses his detective skills and asks questions about the plane. His inquiries lead him to Bubba Rocque, played by Eric Roberts, a childhood friend who claims that he is innocent and his wife Teri Hatcher who seems to have plans outside of her husband's affairs. In the process, his wife is killed and the film becomes one of revenge to determine who is behind all this mayhem. If you're an Alec Baldwin fan, you might enjoy this movie, as I did!
½
Alec Baldwin gives an outstanding performance as ex-cop who finds himself drawn back into the sleazy underworld of New Orleans when a plane crashes in the waters near his bait shop. Adapted from the hardboiled detective novel by James Lee Burke, the film is deliberate in its pace and may disappoint some viewers, but excellent performances, stylist direction and a blue-powered soundtrack make it a rich character study in a mystery setting.
Dean McKenna
Super Reviewer
Heaven's Prisoners Quotes
There are no approved quotes yet for this movie.