Heavy Metal 2000
(2000)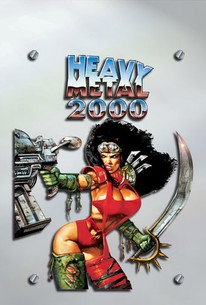 Movie Info
This futuristic animated adventure is based on the graphic novel The Melting Pot, created by noted comic artists Kevin Eastman, Simon Brisley, and Eric Talbot and published by the creators of the well-known graphics magazine Heavy Metal. In a distant universe, the acronym F.A.K.K. (Federation Assigned Ketogenic Killzone) is used to designate places of extreme danger to all life forms. In a bid to keep out unwelcome visitors, the quiet civilization of Eden has designated itself as F.A.K.K., level two. However, a lunatic named Tyler (voice of Michael Ironside) invades Eden, and when he discovers Eden's secrets -- life-preserving if respected, deadly when abused -- he lays waste to the civilization, leaving behind only a female warrior named Julie (voice of Julie Strain). Julie sets out to find Tyler, determined to see the secrets of Eden returned to safety and eager to take her revenge for the slaughter of her people. Unlike the 1981 film Heavy Metal, Heavy Metal 2000 tells one long story rather than several shorter ones; in keeping with the first movie, it does features a soundtrack by a number of noted rock bands, including Monster Magnet, Pantera, Days of the New, Insane Clown Posse, System of a Down, Coal Chamber, and others. Heavy Metal 2000 was released in Europe as Heavy Metal F.A.K.K. 2.
Critic Reviews for Heavy Metal 2000
Audience Reviews for Heavy Metal 2000
Though just as gratuitous and violent as the first film, Heavy Metal 2000 tries something a little different. Instead of an anthology, this time a single story is told; after her world is attacked by a mad warmonger Julie chases him across the stars seeking revenge. Michael Ironside, Julie Strain, and Billy Idol lead the cast and give pretty good voice performances. The animation style is also fairly well-done, but can be a little flat at times. However, the music is unremarkable and doesn't really add much to the film. While it's somewhat entertaining, Heavy Metal 2000 is a wholly unnecessary sequel that doesn't do anything for the series and lacks the unique style and tone of the original.
Dann Michalski
Super Reviewer
I really enjoyed the original Heavy Metal, and thought it was a fine animated featured that blended many film genres. As well as that, the film boasted a great soundtrack filled some truly awesome hard rock, heavy metal songs. This sequel on the hands is a step down the classic film, and it never really becomes anything truly entertaining for the viewer. The problem with the film is that the music selection just doesn't work, and it's late 90's rock, metal music that just doesn't cut it. The original worked very well because the songs were varied, and each artist selected had some truly awesome tunes to bring to the film. With this follow up, the filmmakers offer up a good film, but it never realizes its full potential. The film is enjoyable, and entertaining, but the film could also have been better. I really wanted to enjoy the film a bit more, but I felt that stories didn't work, and that the original didn't need a sequel. Heavy Metal 2000 should mostly be seen as a curiosity, and in many ways that's how the film plays out. The film is average, but never becomes great by any means, and it's a shame because this could have been a great sequel. However the music just doesn't have that timeless quality that the original Heavy Metal did, and this one lack s any real memorable story. The original, every segment was great, original, funny, horrifying and action packed. This one just feels like the filmmakers tried to replicate the formula of the first, but it never realizes its potential because, the first picture was so good, and is a film classic. Nonetheless, this film is good, never great either and it's not that bad, but for a sequel, it suffers the same faith as so many other sequels have, and that's to make a sequel that matches or exceeds the original, which this one certainly doesn't do.
A movie that only a Pantera fan from Texas or Arkansas could like.
James Alvarez
Super Reviewer
Heavy Metal 2000 Quotes
| | |
| --- | --- |
| Tyler: | When you kill someone, make sure they're dead. |
| | |
| --- | --- |
| Tyler: | Just like the sign said, a dead planet. |
| | |
| --- | --- |
| Tyler: | What does it take to get laid here? |