Heavyweights
(1995)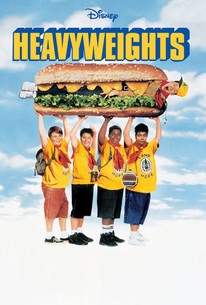 Movie Info
Camp Hope is a summer camp for fat kids; it is also the locale of this Disney family comedy. All of the kids at Camp Hope have a weight problem. It is the one place they can go without feeling different. But when the previous owners declare bankruptcy, the camp is purchased by an obnoxious fitness freak who becomes obsessed with changing his chubby charges into budding body builders. He immediately begins serving them low calorie foods and subjecting them to rigorous exercises. Part of his motivation is greed: he is in the process of writing a book, and filming an infomercial on weight loss. The boys at camp rebel and mayhem ensues.
News & Interviews for Heavyweights
Critic Reviews for Heavyweights
All Critics (7) | Top Critics (1) | Fresh (2) | Rotten (5) | DVD (1)
Time has been kind to the discarded fat camp movie, finding Heavyweights more digestible these days, after years spent processing the askew sense of humor shared by Apatow and Company.
A throwback to the early Disney live-action films that coasted on their premises and were content to provide lightweight entertainment and nothing more.
The first American movie to explore the link between processed cheese and the need for love. A Hamburglar Joint.
July 18, 2004
Audience Reviews for Heavyweights
This has got to be one of the worst ideas for a comedy that I've seen. The film should be a good comedy, but instead it just falls flat because to me it seemed to use the fat stereotypes a bit too much to create its humor. Thus, the film really didn't work, and ended up being pretty bad. This could have been a great film, but the script was too flawed, the acting was bad and the directing was unfocused. I think this film had potential of being very funny, but more than times than not, it fails to deliver laughter. Director Steven Brill can't seem to direct a good film, and Heavyweights is just an awful mess that actually could have been avoided. If the script was better, the cast was good and the director was more skilled, then maybe the film would have been better. There were just too many bad things going on on-screen to make this one worthy of seeing. In the long run, the film is very forgettable and is not worth seeing. There are too many areas where the comedy fails at making you laugh, and it's a film that simply doesn't work overall. I hated the film, and is one of the worst films I had to watch. There are far better comedies out there than Heavyweights. This film just fails at giving you good entertainment. The film is bad because it uses stereotypes constantly in a form of humor that just isn't funny. Avoid Heavyweights, this film is bad. The film is one poor comedy that simply isn't funny.
½
Insanely nostalgic. Tony Perkis and Lars are two of the greatest cult comedy characters of all-time! If you want to see Ben Stiller at his most over-the-top hilarious level, give this a look. And if you're a 90s kid, I'm sure you remember this film, too. If not, watch it now!
Tyler Christian
Super Reviewer
½
As an aspiring infomercial fitness-life coach-messiah playing God over a summer camp, Stiller goes out there, without fear of overplaying it, and it might be his best performance -- I think better than the variation in Dodgeball. Maybe the movie needs this hock of ham, since before Stiller's character takes over, the camp is a beloved dream vacation for kids -- motorized go-carts and track included -- who all happen to be fat and still won't ever feel deprived thanks to their abundant candy stashes. They had fun there because no one felt judged. This is sensitive and makes for a great family movie, even when the kids don't get the best jokes. I guess since I'm not 12, it's weird for me to see that all the kids harbor only goodwill toward each other, and only goodwill toward anyone except when they're being effed with by a psycho or jerk. Not that I'm asking for a Lord of the Flies where everyone is as fat as Piggy, but the movies Apatow wrote for adults, in suspended adolescence, didn't divide the world into good guys and villains, which made you feel you were being lied to before. -- Why am I being serious about this? It's a movie about a fat camp.
Adam Mahler
Super Reviewer
Heavyweights Quotes
| | |
| --- | --- |
| Julie: | Hi, I'm Julie the new nurse. |
| Pat Finley: | I'm Pat. |
| Julie: | Pat, I'm a little lost, can you tell me where the infirmary is? |
| Pat Finley: | Hmmm, let's see . . . ah . . . . no. |
| Julie: | Oh . . . well, I'll find it. Nice to meet you. |
| Roy: | Pat, you've been coming here since you were 10, and you don't know where the infirmary is? |
| | |
| --- | --- |
| Tony Perkis: | My Grandma runs faster than you and she's only got one leg!!! |
| | |
| --- | --- |
| Tony Perkis: | Seamore Butts? Whose Seamore Butts? Whose Seamore Butts?! |
| Josh Birnbaum: | Nobody sees more butts then YOU Uncle Tony!!! |