The Hebrew Hammer
(2003)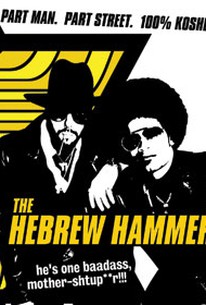 Movie Info
Mordechai Jefferson Carver, aka 'The Hebrew Hammer', is an Orthodox stud, who goes on a mission to save Hanukkah. When Santa Claus' evil son Damien is pushed over the edge by his father's liberal policies, he does away with the Christian patriarch. Subsequently stepping into his father's role, Damien launches a campaign to eradicate the Jewish Holiday. The Hammer joins forces with Esther, the gorgeous and dangerous daughter of the world's top Jewish leader, and his friend Mohammed, head of the Kwanzaa Liberation Front, to topple the evil Santa and save Hanukkah for future generations.
Critic Reviews for The Hebrew Hammer
Audience Reviews for The Hebrew Hammer
Made as a production for Comedy Central, this is writer/director Jonathan Kesselman's take on the detective/spoof film. Expanded from a short Kesselman made, this is the story of a super cool Jewish private eye named Mordechai Jefferson Carver, aka The Hebrew Hammer. When Daminen, the evil son of Santa Claus kills his dad, takes over, and goes on a mission end Hanukkah, The Hebrew Hammer sets out to make things right, By his side are a nice Jewish girl, and help from his brothers at the Kwanzaa Defense League, who also seek more tolerance and acceptance during the winter holiday season. The film is a very good natured, but very un-PC spoof film, with blaxploitation films being the primary reference point. As a fan of blaxploitation, and blaxploitation spoofs, I was immediately drawn to the concept, especially since I dig on Jewish stereotypes too, but not in a cruel way. The film is funny, but it's more silly than anything. I dug the references I(and got most of them), but the film is really pretty shallow, and is stuffed with more jokes than substance. I did enjoy it, but it really lacked the punch that a lot of modern exploitation (and spoof) films have. There are some really choice moments that made me squee though (and yeah, I just said squee...get over it), so even though the film is light, it's moderately amusing,. The cast are ultimately what hold it together, and you can tell they're trying hard to make things work. Goldberg is a lot of fun as Mordechai, Judy Greer is fun as his love interest Esther, and Andy Dick is delightfully nutty as Damien. I dug the participation from the Van Peebles clan, too. All in all, the film has its moments, but it seems to miss almost as much as it hits. As a general fan of this sort of thing, I give it a bit more credit, but overall, this is rather underwhelming.
Chris Weber
Super Reviewer
The Hebrew Hammer is a very funny film and has a pretty unique story to make it an entertaining comedy from start to finish. Considering that this film has Andy Dick in it, I quite liked him in his role, despite the fact that I hate him because of his eccentric, weird and creepy track record. The film has some effective comedy that is very funny and Adam Goldberg is perfect in the lead role, and he's very funny. The film is far from perfect, but it manages in being lots of fun from start to finish. This is a mindless comedy film with a good idea for its plot, and it works. This is not a film to take seriously, and it has its flaws, but for the most part it succeeds well enough at being a fun film. The Hebrew Hammer succeeds at being an effective comedy that delivers good laughs. Like I previously said, Andy Dick is good here, and he delivers the only good performance of his career as well as his small part in Old School. This is a worthwhile comedy to watch if you want a different type of film to watch. Original and funny, The Hebrew Hammer is quite entertaining and lots of fun, even if it's not perfect. Nonetheless it's a well acted film with plenty of gags that generate good laughs, and it definitely is a refreshing take on the Christmas film genre, and it uses stereotypes well enough to generate effective laughs.
½
The first "Jewsploitation" movie. Essentially it's a jewish version of Shaft. Of course, this is a pure comedy that's all about its setups and gags. All the actors make it work for the most part though. A number of good scenes make this work as a whole.
Aaron Neuwirth
Super Reviewer
The Hebrew Hammer Quotes
| | |
| --- | --- |
| Mordechai Jefferson Carver: | shabbat shalom, mother fuckers!! |
| Mordechai Jefferson Carver: | Shabbat shalom, motherfuckers! |