Heckler
(2008)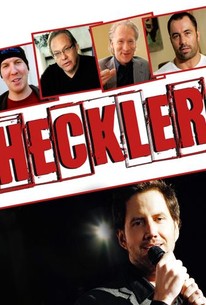 Movie Info
Nearly anyone who performs in public on a regular basis is familiar with the notion of the audience member who makes their opinions loudly and clearly known during the show, and like most comedians Jamie Kennedy has dealt with his fair share of hecklers over the course of his career. However, when Kennedy moved from stand-up comic to actor, he encountered a new breed of heckler -- the on-line film critic who posts angry rants on the internet, taking Kennedy to task for nearly every aspect of such critically drubbed movies as Son Of The Mask and Malibu's Most Wanted. Kennedy teamed up with director Michael Addis to make the documentary Heckler, which explores the increasingly combative relationship between artists and their audience. Heckler features interviews with a number of comics and musicians discussing their experiences with loud-mouthed spectators (including Bill Maher, David Cross, Louie Anderson, Rob Zombie, Joe Rogan and David Allen Grier), but Kennedy goes a step further, confronting a number of the writers who've bad-mouthed his work and questioning their role in the creative process. Kennedy and Addis also talk with filmmaker Uwe Boll, who went so far as to challenge his critics to a boxing match. Heckler received its world premiere at the 2007 Tribeca Film Festival.
Critic Reviews for Heckler
Audience Reviews for Heckler
A film that thinks it has a lot to say, but very rarely varies from its one, obnoxiously repetitive message that simply reads "I'm thin skinned." Hecklers themselves are thoughtless stooges who announce their presence and proceed to put down the performing comic, politician, musician, etc. for their own benefit, or detriment. It's evident that the directors of the film quickly ran out of material to finish their documentary and had to move on to something else entertainers bitch about: their adoring public. All manner of big names show up to give their two sense when it comes to films critics, Internet pariahs, and anyone who has a dissenting opinion from these creators, directors, and studio heads. The bulk of the film is valid in its assessment of people who simply say mean hearted things for the sake of their own popularity or even notoriety. Jamie Kennedy is the ringmaster in this documentary and resurfaces time and again to engage film critics in debates on why they deemed his films "Malibu's Most Wanted" and "Son of the Mask" as utter trash. Now, Kennedy does get a lot of unneeded slack in these reviews, and I agree that that's not fair, but the many interviews with other people tend to remain limited on the assumption that all criticism, of any kind, is wrong and make every creator feel bad about themselves and their work. Many of the people who come out to give interviews in this film are genuinely interesting people who vow not to care what people think and that the bad can't touch them, such as Mike Ditka, Craig Ferguson, and the vast amount of comedians who get heckled every show, and that truly sucks for them, but when Joel friggin' Schumacher showed up, I knew there was little credibility to these people's words. There is definitely something to protecting positivity in this world, but not at the expense of those who disagree to be heckled themselves.
Spencer S.
Super Reviewer
½
Jamie Kennedy throws a broad net here, snagging not only audience hecklers but film critics, internet bloggers and professional journalists as well. Interesting stuff.
Randy Tippy
Super Reviewer
Hecklers come with the territory so quit crying about it and do your job.
Joe McCall
Super Reviewer
Heckler Quotes
There are no approved quotes yet for this movie.