Hector And The Search For Happiness
(2014)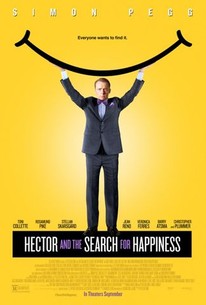 Hector And The Search For Happiness Photos
Movie Info
Hector (Simon Pegg) is a quirky psychiatrist who has become increasingly tired of his humdrum life. As he tells his girlfriend, Clara (Rosamund Pike), he feels like a fraud: he hasn't really tasted life, and yet he's offering advice to patients who are just not getting any happier. So Hector decides to break out of his deluded and routine driven life. Armed with buckets of courage and child-like curiosity, he embarks on a global quest in hopes of uncovering the elusive secret formula for true happiness. And so begins a larger than life adventure with riotously funny results. Based on the world-wide best-selling novel of the same name, Hector and the Search for Happiness is a rich, exhilarating, and hilarious tale from director Peter Chelsom, starring Simon Pegg, Toni Collette, Rosamund Pike, Stellan Skarsgard, Jean Reno and Christopher Plummer. (c) Relativity Media
News & Interviews for Hector And The Search For Happiness
Critic Reviews for Hector And The Search For Happiness
Audience Reviews for Hector And The Search For Happiness
½
A sweet movie that is predictable.
Film Crazy
Super Reviewer
So flippin' awesome! A stuck-in-a-rut psychiatrist is losing patience with his patients and finds that the problem is himself, so he embarks on a world tour to find the secret to happiness...with some selfish self-actualization along the way. The happy moments are indeed uplifting as hell, but Hector's unexpected imprisonment in a third world prison is truly harrowing and suspenseful. The little details are just marvelous: the Tintin parallels, Hector half-closing his eyes to match his botched passport photo, the papier-mache plane turbulence, Hector's perpetual lack of writing utensils figuring into his emancipation, and Clara's neuroticisms, "Is this conversation going as badly/well as I think it is?" Simon Pegg is absolutely darling as the mild-mannered though emotionally courageous Hector, and Rosamund Pike plays his put-upon yet supportive girlfriend with her trademark icy gutsiness. Ming Zhao (and her waterfall of hair) is riveting as Ying Li, Hector's one-night-one-day-stand, and it's a pity that there doesn't seem to be more substantive projects in development on her IMDb page.
Alice Shen
Super Reviewer
½
A psychiatrist in a rut travels to find the key to happiness. Is it possible for a film to be trite, cliche, predictable, and effective? This film is all of those things. The resolution to the conflict is obvious from the beginning, and the individual act climaxes are obvious. And while the film doesn't offer any new wisdom about life, love, and happiness, that doesn't mean that its repetition of classic wisdom isn't heart-warming and effective. There are also factual errors in the film, which will bother the more logical and cerebral viewer. Special kudos go to Simon Pegg and Rosamund Pike who give wonderful performances. Overall, it's a lovely though unremarkable film.
Jim Hunter
Super Reviewer
Hector And The Search For Happiness Quotes