The Heiress
(1950)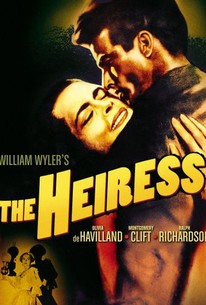 Movie Info
In this film, Catherine Sloper is the plain-Jane daughter of a wealthy widower. Catherine is not only unattractive but lacks most of the social graces. When Catherine falls in love with handsome young Morris Townsend, she believes her love is reciprocated, why else would Morris be so affectionate towards her?
Critic Reviews for The Heiress
Audience Reviews for The Heiress
Outstanding production values and an overall sterling example of what a monumental team effort a good film truly is, from the bottom to the top, excellence abounds in this pre-Civil War depiction of a societal ugly duckling (who's not really ugly) who comes under the thrall of a dashing young swain. Monty Clift and Miriam Hopkins both deliver nuanced performances that sharpen the gist of the piece, and Ralph Richardson as the caring father blinded by grief is memorable, but Olivia DeHavilland's Oscar-winning performance as an innocent who discovers the corruption around her is indeed all around her is unforgettable. Hollywood in all its splendor, and that's meant in a good way.
Kevin M. Williams
Super Reviewer
½
Superlative version of the James novel sharpens and refines the book. Olivia, always a fine actress, gives one of her defining performances revealing the many layers of Catherine during her evolution from doormat to bruised and wary but empowered woman. Clift gives a sly performance, his natural beauty aiding in the belief that he could be a rake living off his looks. Sir Ralph Richardson is simply great as the thoughtlessly cruel father, hinting that in his own obtuse way he has no understanding of what he thinks of as protecting his daughter is actually crippling her and his malice towards her something he doesn't comprehend. Miriam Hopkins is perfectly cast as the flighty Aunt Penniman her fluttery gestures making her seem more vapid than she really is. Selena Royale is also fine as the other sister even though in a smaller role, she, Miriam and Richardson share a fantastic scene that clarifies the relationship of the entire family and his inability to see beyond his own view point no matter the cost. All their superior work would be for naught though were it not for Wylers sure handed direction that keeps the sometimes heavy dramatics feeling personal and involving.
This movie explores the question: is it better to be happily married to someone who just wants your money, or to live a lonely life and keep your millions? Most of the movie is annoying and boring, and I don't like their answer to the question.
The Heiress Quotes
There are no approved quotes yet for this movie.