Held Up
(2000)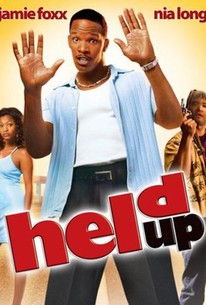 Movie Info
In this fish-out-of-water comedy, Jamie Foxx plays a man named Michael Dawson, though he's confused for both Puff Daddy and Mike Tyson by the citizenry of the podunk southwest town that serves as the setting for Held Up. Road-tripping Michael and Rae (Nia Long) stop in for gas in Michael's new vintage roadster, but she grabs a ride to the airport with a truck full of cowboys after learning he blew more than 10,000 dollars earmarked for buying a home on the automobile. Moments later, Michael loses the car as well when a youth cons him out of the keys. Just when his day couldn't get any worse, Michael lands in the middle of a botched hold-up by amateurs trying to knock over the convenience store. All variety of local law enforcement, from the sheriff (Barry Corbin) to truckloads of unofficial shotgun-toting "deputies," quickly descends on the scene. Michael tries to sweet-talk the frightened gunman (Eduardo Yanez), befriend his fellow hostages (Sarah Paulson and John Cullum), and plan how to reach the airport before Rae's flight leaves, all while not getting shot by the hair triggers inside and outside the store. The film was produced and originally publicized under the title "Inconvenienced."
Critic Reviews for Held Up
Audience Reviews for Held Up
Held Up Quotes
There are no approved quotes yet for this movie.