Helen of Troy
(2003)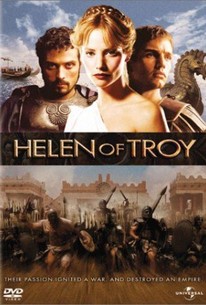 AUDIENCE SCORE
Critic Consensus: No consensus yet.
Movie Info
"The face that launched a thousand ships" was the centerpiece of this two-part TV miniseries, which invoked affectionate memories of the overblown Cecil B. DeMille epics of years gone by. Set in the 13th century B.C., the series starred Sienna Guillory as Helen, the Olympian-born, dazzlingly beautiful trophy wife of Sparta's King Menelaus (James Callis). Unhappy in her "marriage of state," Helen yearned for the companionship of the gorgeous young man whom she had seen only in a vision: Paris (Matthew Marsden), the Prince of Troy. As luck would have it, Paris managed to "abduct" Helen and spirit her off to his homeland, where she was welcomed by his father, King Priam (John Rhys-Davies), despite the portents of doom from Paris' foresighted sister, Cassandra (Emilia Fox). Meanwhile back in Sparta, King Menelaus, his honor besmirched, declared war on Troy, thus beginning a ten-year conflict that would culminate disastrously in the incident of the Trojan horse. All of which greatly pleased Menelaus' covetous brother, Agamemnon (Rufus Sewell), who cannily exploited the war in order to emerge as King of the Aegean. Far more elaborate than any of the previous cinematic treatments of the Helen legend, this one was also a bit more sensational, with a number of gratuitous but enjoyable nude scenes. Filmed on location in Malta and Greece, Helen of Troy was seen over the USA cable network on April 20 and 21, 2003.
Audience Reviews for Helen of Troy
½
Better than Troy. Too much focus on Paris and Helen, but that is the path this film chose. Better representation of the characters from the epic, the best thing about this being that it follows the actual story.
Aaron Neuwirth
Super Reviewer
Helen of Troy Quotes
There are no approved quotes yet for this movie.