Hell Night
(1981)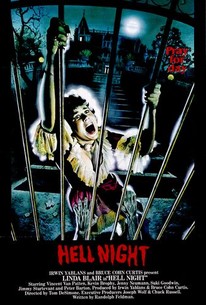 Movie Info
This plodding, derivative slasher opus -- a surprise box-office hit -- stars Exorcist vet Linda Blair as one of a quartet of sorority and fraternity pledges required to spend the title evening of their initiation inside the spooky Garth Manor. The mansion was the site of a gruesome multiple murder, wherein the owner killed his wife and three of his four deformed children before taking his own life. After the four pledges bed down for the night (mainly with each other, though Blair is called upon for the standard "virginal heroine" role here), mischievous upperclassmen descend into the house, intending to scare them out of their wits...but something even more repulsive than a pack of drunken frat-boys beats them to it. It comes as no surprise that Garth's fourth child -- apparently the most monstrous of the bunch -- is still roaming the premises, and doesn't take kindly to strangers. An early foray onto exploitation turf for director Tom de Simone, this film has a fairly stylish look, though mired by underlit photography and silly performances. Blair is appealing, but her role is sadly underwritten.
Critic Reviews for Hell Night
Audience Reviews for Hell Night
Trapped overnight in a haunted mansion with a homicidal maniac and doomed to making all the moves movies 30 years later would make serious fun of ("I'm going down in the basement without lights to see what that sound was. You guys stay here."), this 1980's horror turn asks the question: what could go wrong? Linda Blair stars. It's fun.
Kevin M. Williams
Super Reviewer
Effective Slasher, Hell Night is a fun treat despite its flaws. The film is an underrated horror yarn that stars Linda Blair and Vincent Van Patten. With effective kills, this one should appeal to horror fans looking for Obscured, forgotten titles. Hell Night is entertaining from start to finish, and boasts enough entertainment value to please the most demanding genre fan. This film has its imperfections, but is held together by Linda Blair's performance that is pretty good and makes the film worth seeing despite its cheesiness. As a Slasher film, this one works well and is far better than most run of the mill Slashers of the early 1980's. This is a good flick that has plenty to offer. Although Hell Night doesn't reinvent the formula, it still has all the ingredients to make for an effective horror flick. At times the acting, and dialogue suffer, but Slasher films are not going to win any big prizes. As far as the genre is concerned, this is a fine little flick that is a must see for genre fans. The gore is great and each kill is intense, also there's plenty of suspense and a hint of atmosphere due to the fact that this was filmed in a Victorian mansion, which adds a creepier feel to the picture. Although the film relies on the derivative Slasher formula, the production values and setting of the movie make it a tad more accomplished than most in the genre. I very much enjoyed this film, and it is an obscured gem of the golden era of Slasher flicks.
Having not seen Hell Night since I was about 12 and having found a used copy, I decided to give it a spin. The only copy of the film that I had seen was a squashed full screen VHS tape that was muddy, dark and just nearly impossible to watch and make any real sense out of. Fortunately, the DVD I found of it isn't, and I was finally able to experience it properly for the first time. I found it to be surprisingly effective and creepy. It's not a body count sort of slasher movie as there's hardly any victims to be served up to the unseen force terrorizing these young college students that are stuck in a haunted mansion all night under an initiation for a fraternity. There's actually some very good dialogue buried in there; not always delivered at the highest levels, obviously, but refeshingly realistic at times. The back and forth between Linda Blair and Peter Barton is mainly what I'm referring to. Everyone seems to be having a good time, and it shows in their performances. The movie loses its focus at times and gets a little bit silly towards the end, but overall, it has some great atmosphere and some genuine scares. I can't even really call it a slasher because it doesn't go by that particular formula, but it's a well-produced horror movie that was worth the profits it raked in.
Tim Salmons
Super Reviewer
Hell Night Quotes
| | |
| --- | --- |
| Peter: | In 1850 Virgil Garth built this mansion with the gold that was pouring out of his mines. Since then, four generations of Garth's have lived here. Until twelve years ago. The last people to live in the house were Raymond and Lillian Garth, and their four children. Now Lillian Garth was a hopeless simpleton. About the only thing she was good for was child bearing, and she didn't turn out to be too hot at that. First child she bore; Raymond was a boy. A mongoloid boy they called Morris. Now Morris brought great sorrow to the Garth's...and they immediately set about to have another child. And they were soon cursed with a baby girl; Suzanne. And she was so hideously deformed that it was impossible to tell from looking at her if she was male...or female. At with her father's immense disgust, she used to drag herself around the house with the help of her one...good...leg. Now the Garth's were very fanatical about their privacy. They didn't want to have to be dependent on anyone else, so they isolated themselves up here. That is why they never put in any modern utilities; there's no gas...no electricity...and no phone. So again they tried to have a child, and within the year the Garth's added Margret. But unfortunately it soon became apparent that poor little Margret could neither hear...nor speak...nor see. But good old Ray was determined and he decided to have one last goal. So Lillian got pregnant again. And she carried the child for ten and a half months. Until finally she delivered a little "Gorth" named Andrew. Andrew never spoke a word in his first fourteen years. He just made these grunts and groans like the sounds of wild animals. Now Raymond Garth lived isolated in this house for fourteen years with this freakshow, until he couldn't stand it anymore. Twelve years ago he assembled the entire family in the parlor. And then he took his dear wife Lillian and he strangled her to death. Then he took the mongoloid son Morris and he bashed out whatever little brains he had with the fireplace poker. Then he took the deformed little Suzanne and he impaled her with the same poker. Then he took the deaf, dumb, and blind little Margret...and he slit her throat. And then Raymond Garth got a rope and hung himself to death; leaving the cruelest punishment of all to his fourteen year old "gorked" out son Andrew, who was forced to witness the slaughter...of his entire family. Now when the police arrived, they discovered a note written by Raymond Garth describing the entire gruesome act. But strangely they only discovered three dead bodies. And young Andrew was nowhere to be found. All they searched the house as thoroughly as they could...but still only came up with three corpses. Andrew...Andrew is still believed by some...to be living somewhere...within this house. |
| | |
| --- | --- |
| Denise: | Is that all you're interested in? - Sex? |
| Denise: | Is that all you're interested in? Sex? |
| Seth: | What are you talking about? |
| Denise: | I mean don't you do anything but drink and screw? |
| Seth: | Yeah, I surf...I surf, drink and screw - ha-ha. |
| Seth: | Yeah, I surf, I surf, drink and screw. Ha-ha. |
| | |
| --- | --- |
| Peter: | Why is this night so special? |