Hell to Eternity
(1960)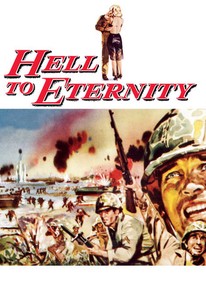 Movie Info
Guy Gabaldon (Jeffrey Hunter) is the American born adopted son of a West Coast Japanese couple. When Pearl Harbor is bombed, he enlists in the Marines, and his mastery of foreign language helps negotiate a bloodless surrender of defeated Japanese Army regulars in Saipan. Meanwhile, his own family in America is shunned because of their oriental heritage.
Critic Reviews for Hell to Eternity
Audience Reviews for Hell to Eternity
½
One of the first films to address the injustice of the WWII internment camps for Japanese Americans. Poorly named Hell To Eternity is a Hollywoodized version of the true story of Guy Gabaldon, a Hispanic boy who was adopted and raised by a Japanese family during the Great Depression. Gabaldon served as an interpreter in the U.S. Marine Corps, ultimately saving many American lives. This film struggles to find it's identity. It seems as though it can't decide whether it wants to be a socio-political drama or an action-packed war picture. The two concepts never effectively merge. They just seem stacked, one on top of the other. The result is a film that sometimes flows, sometimes flounders.
Randy Tippy
Super Reviewer
Hell to Eternity Quotes
There are no approved quotes yet for this movie.