Hellboy II: The Golden Army (Hellboy 2)
(2008)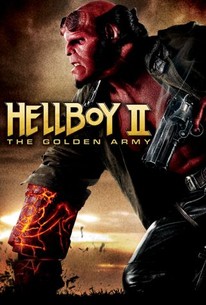 TOMATOMETER
AUDIENCE SCORE
Critic Consensus: Guillermo del Toro crafts a stellar comic book sequel, boasting visuals that are as imaginative as the characters are endearing.
Hellboy II: The Golden Army (Hellboy 2) Videos
Hellboy II: The Golden Army (Hellboy 2) Photos
Movie Info
Ron Perlman returns to the role of the big red BPRD agent in this sequel to 2004's Hellboy, directed once again by Guillermo del Toro and scripted as before in collaboration with original Hellboy creator Mike Mignola. For centuries, an ancient truce has kept the naïve citizens of the human race safe from the horrors of the invisible realm -- but that's all about to change, and fast. A ruthless leader has emerged in the invisible realm, a tyrant just as comfortable walking the surface realm as he is living in the land of fantasy. When this power-mad ruler defies his bloodline to assemble an unstoppable army of fantastical creatures that he will use to wage a supernatural war on humanity, it begins to appear that humankind's days are numbered. But Hellboy (Perlman) isn't about to stand idly by as the planet is purged by a demonic despot, and with a little help from his team at the Bureau for Paranormal Research and Defense, he may just be able to send our otherworldly overlords packing. Of course, Hellboy's pyrokinetic girlfriend, Liz (Selma Blair), is always willing to conjure up an inferno or two when things get desperate, aquatic Abe (Doug Jones) is prepared to dive headlong into any battle, and protoplasmic mystic Johann (voice of Thomas Kretschmann) proves an invaluable companion in times of inter-dimensional conflict. Now, as the creatures who inhabit the spiritual realm gear up for an all-out attack on the human plane, the only one capable of saving the Earth is a tough-talking hellspawn rejected by both worlds. ~ Jason Buchanan, Rovi
News & Interviews for Hellboy II: The Golden Army (Hellboy 2)
Critic Reviews for Hellboy II: The Golden Army (Hellboy 2)
Audience Reviews for Hellboy II: The Golden Army (Hellboy 2)
½
Guillermo del Toro did it again. His imagery and visual language are unique in fantasy cinema. He easily exceeds expectations for his second Hellboy film and creates one hell of a fun fantasy picture. A movie that has everything an action comic adventure needs: so many funny, pretty and ugly creatures that you could fill 5 films with them; likable heroes and cool villains; humor, even silliness, yet a certain depth and care for the characters you start to love and want to follow around for all of their adventures; great, spectacular action scenes and outstanding special effects. Sure, the plot doesn't always make sense, but all the neat ideas, one-liners and breathless pace more than make up for it. In short: Bloody fantastic.
½
The infernal superhero and his team reunite to stop an elfin prince from reawakening a dormant robotic army to wage war on mankind. One thing that you can take for granted when it comes to films by Del Toro is that it IS going to look absolutely fantastic, and so it does. The wonderful art design shares the look of some of his earlier gothic fairytales such as Pan's Labyrinth, as well as the combination of fantasy and eco-message that is the trademark of Myazaki (the most visually extraordinary example being the stunning death of the forest elemental.) The troll's market is also worth a mention, which is akin to a Tim Burton reinvention of Mos Eisley, but as I said, we always knew that the imagery was never going to be in question. The story has a combination of fantastic creatures, epic battles and Men In Black style visual gags that comes across as The Return Of The King with a sense of humour. The jokes aren't top drawer, but it's always amusing and the frenetic action sequences are exciting and fun. Perlman is as reliable as always and Luke Goss once more is a charismatic and multi-layered bad guy, the only real weaknesses being the corn infested love interests; in fact I couldn't help thinking that the darker edges of Del Toro's vision were probably tempered in an attempt to appeal to the Harry Potter market. As a whole though, it's a lot of fun and as always seems to be the way with superhero movies is rather better than the first one.
[img]http://images.rottentomatoes.com/images/user/icons/icon14.gif[/img]
Directors Cat
Super Reviewer
Hellboy II: The Golden Army (Hellboy 2) Quotes
| | |
| --- | --- |
| Hellboy: | I'd give my life for her, but she still wants me to do the dishes. |
| | |
| --- | --- |
| Prince Nuada: | Demon! What are you waiting for? This is what you want, isn't it? Look at it. The last of its kind, like you and I. If you destroy it, the world will never see its kind again... You have more in common with us than with them. You could be a king... If you cannot command, then you must obey. |
| | |
| --- | --- |
| Prince Nuada: | Let this remind you why you once feared the dark... |
| | |
| --- | --- |
| Liz Sherman: | Open wide |
| Liz Sherman: | Open wide. |